Jetex Flight Support has announced its entry to the United States FBO market, with the launch of a Jetex-branded private terminal service at California's San Bernardino International Airport (SBD/KSBD).

The new agreement will see the company deliver its world-class ground handling services at the Luxivair SBD terminal, the only facility of its kind at the airport.

The 12,000 sq ft two-story terminal features a spacious glass-enclosed atrium lobby, and offers ramp-side vehicle access, a pilots lounge, snooze room, flight-planning room, conference facilities and crew cars. Guests also have access to an extensive range of concierge services, a complimentary snack bar, a luxurious movie theatre, and an outdoor lounge area complete with a stunning panoramic view of the airport and the San Bernardino Mountains.

Passengers will also benefit from on-site U.S. Customs officials, helping international flights avoid some of Southern California's most congested airspace by providing an alternative point of entry to LAX, Palm Springs International and Van Nuys.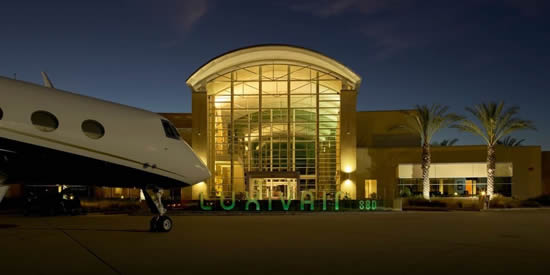 Luxivair SBD terminal
The Inland Empire region city of San Bernardino is located to the east of the Greater Los Angeles area. According to the U.S. Census Bureau, four million people live within 25 miles of the airport. Luxivair SBD boasts convenient access to many of Southern California's top attractions, most of which are located within a one-hour drive from the airport.
"Jetex is a world leader in our industry, and Luxivair SBD is proud to support their continued growth into the U.S. and other markets through this integral co-branding partnership - a relationship we are confident will seamlessly complement the incredible Jetex customer service experience," said Mike Burrows, Executive Director of Luxivair SBD and SBD International Airport.
Jetex CEO & President Adel Mardini said "The Luxivair SBD Terminal is a truly outstanding facility, and fully in keeping with the exceptional standards of luxury the Jetex name has become synonymous with. It is a logical choice for us to partner with Luxivair SBD to launch our first FBO service in North America, which joins our state-of-the-art operations center in Miami to provide coast-to-coast presence. This is set to be the first of many openings, as we continue to develop our network both within the United States and on a global scale."