FlightSafety International has announced a significant upgrade to the flight deck of its simulator used for Bombardier Dash 8 300 aircraft training. The simulator is located at the FlightSafety Learning Center in Toronto, Canada.
"This upgrade of our Bombardier Dash 8 300 aircraft simulator reflects FlightSafety's commitment to provide our Customers with the highest quality training using simulators that are equipped with the latest technology according to their specific needs," said Executive Vice President, David Davenport.
The Field Aviation EFI-890R Flight Deck Modernization program is a state of the art replacement of the legacy Dash 8 OEM electromechanical and electronic flight and engine instrumentation systems with five Universal Avionics (UA) EFI-890R flat panel integrated smart displays. Four of these present the pilots with navigation and situational awareness, and the fifth (center unit) displays engine information. The system provides full redundancy by allowing information to be switched between the displays.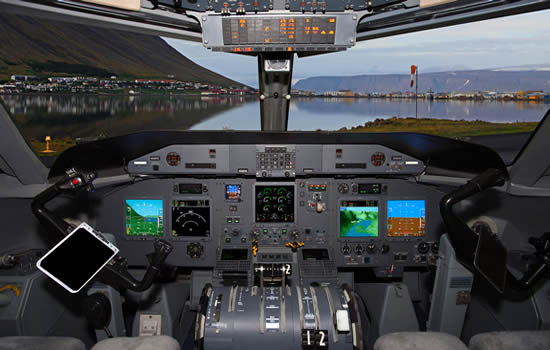 Field Aviation EFI-890R Flight Deck.
This program was developed with operator input and utilizes common part numbers for all Dash 8 Series 100/200/300 aircraft. The Field Aviation STC has been approved by Transport Canada, the FAA and EASA and maintains the Dash 8 common pilot type rating.
"FlightSafety International's decision to incorporate our Flight Deck Modernization solution into their simulator is a clear indication of the importance of this modification to Dash 8 operators worldwide", said Field Aviation's vice president of business development, Rob Baseggio. "In addition to solving many obsolescence issues, the options offered with the UA EFI-890R displays can significantly improve pilot situational awareness and enhance safety."
"This significant upgrade of our Bombardier Dash 8 simulator demonstrates FlightSafety's commitment to support the needs of our customers and to help them operate at the highest level of safety", said Tasneem Hashmi, Manager, Toronto Learning Center. FlightSafety expects to complete the equipment installation and to start training using the upgraded simulator before the end of 2018.
The Toronto Learning Center currently offers six full flight simulators for Bombardier aircraft. They are used to provide training for the Bombardier Dash 6, Dash 7, Dash 8 100, 200 and 300 aircraft as well as the Q400. Training for the Bombardier Dash 8 series aircraft is also provided at FlightSafety Learning Centers in Atlanta, Georgia; Johannesburg, South Africa; and Seattle, Washington.