Bombardier Business Aircraft has unveiled the Nuage, its industry-redefining seat on the Global 7000 aircraft, with the first new seat architecture in business aviation in 30 years.
Within the fluid lines of its exceptionally crafted exterior is a marvel of furniture engineering, meticulously designed to achieve optimal comfort in flight.
"In designing the Nuage seat, we examined every conceivable passenger need and comfort that might arise while seated in flight and launched our process from there," said Peter Likoray, Senior Vice President, Sales and Marketing, Bombardier Business Aircraft. "This empathetic design philosophy inspired us to craft a seat unlike any other - the most innovative seat the industry has seen in three decades. Offering an unprecedented balance of comfort and control, Nuage is an ergonomic and aesthetic masterpiece that redefines the very notion of seated comfort for life above the clouds."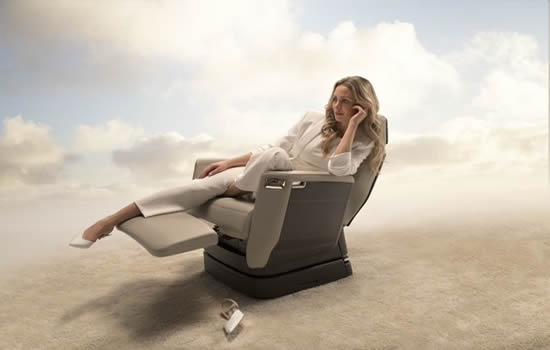 Nuage seat on the Global 7000
Designed to maximize comfort and relaxation on long-haul flights, Nuage introduces an all-new, ergonomically-perfected deep recline position - unavailable on any other business aircraft. Unlike other aircraft seats where only the back reclines, pushing the body forward and leading to discomfort, the Nuage features a patented tilt link system that dips the seat as the back is reclined, keeping the body fully supported with no added pressure on the legs. This dynamic movement is the result of years of research and development, and it serves to support and cradle the body like no other aircraft seat in the industry.
The Nuage seat also features a fluid movement system and patented floating base, which allows the seat to track and swivel naturally and effortlessly and without visible floor rails, further enhancing its streamlined look. The fluid movement system also includes a centre swivel axis for an intuitively centred point of rotation in any position, allowing the passenger to swivel with ease and remarkable precision.
For added comfort and support, the Nuage seat is equipped with a tilting headrest - also unavailable on any other seat in business aviation. Thoughtfully engineered, this adjustable headrest provides optimal neck support in every position while helping to maintain an effortless line of sight when watching TV or reading in a reclined position.
Offered in a vast selection of leathers, fabrics and finishes, the Nuage seat brings the most desirable aesthetic and functional features of luxury seating into the cabin.