Pula Aviation Ltd, has recently completed the acquisition of ASG Group Ltd, a company that owns 41,000 sq. ft of hangarage at Guernsey airport and a 25% share of the ASG operating companies.

The operating companies include ASG Ltd, an EASA 145 maintenance organisation specialising in turbine and piston engine maintenance up to ATR72, with a Europe wide customer base and Fly ASG Ltd an aircraft sales business specialising in turbine aircraft sales.

Pula's investment in ASG will facilitate further growth for both companies; ASG having grown revenues by 80% in the last 3 years.

Guernsey based Pula Aviation Ltd was established in 2015 to develop business aviation in the Channel Islands and further afield. It acquired Bristol-based aircraft management and charter operator, Centreline AV, in 2016 and following a restructure in 2017, holds a 25% stake in Guernsey based Aiglle Flight Support. The Pula Group also has aviation interests in southern Africa.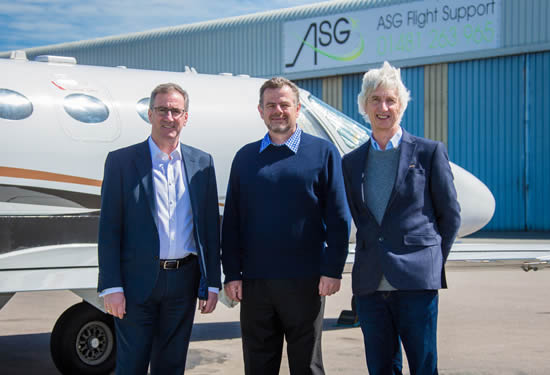 (L to R): Nick Brown, Managing Director, Pula Aviation Ltd; Steve Page, CEO, ASG Ltd; and Mark Parr, Managing Director, ASG Ltd.
CEO of ASG, Steve Page said, "We welcome the investment in ASG by Pula Aviation and look forward to creating a mutually beneficial and expanding partnership. Guernsey has proven an exceptionally attractive location for European based maintenance customers and ASG has successfully attracted multiple corporate customers over the last 3 years. We now look forward to leveraging our joint capabilities with Pula to build upon our success."
Managing Director of Pula Aviation, Nick Brown, added, "We are delighted to have added ASG Group Ltd to our portfolio of aviation related investments. This acquisition demonstrates our ongoing commitment to business aviation and provides a number of exciting opportunities to expand the range of services provided by Pula Aviation's group companies."