VistaJet, the first and only global business aviation company, is partnering with Bon Soirée once more to create perfect menus on its flights departing from London.

Bon Soirée's ability to prepare and deliver its bespoke menus within the flexible times needed in flying privately, and a fruitful and established relationship were central to the decision to renew the contract, signed in February after a competitive pitch.

Located in the UK Home Counties, Bon Soirée started working with the Malta-based business aviation company in 2010, receiving its first formal contract in 2013 to serve many of the London-centric airports favoured by VistaJet clients.

"Bon Soirée's excellence in preparing and presenting high quality food, to suit a range of tastes throughout the world, and its flexibility in working with the most distinguished customers gave them a critical advantage when we were looking for the most appropriate VistaJet partner," commented Diego Sabino, Vice President of Private Dining at VistaJet. "The quality of our on-board service is one of the key reasons our Members fly with us and regardless of the distance or destination, the food we serve is a vital component in creating a memorable experience," he added.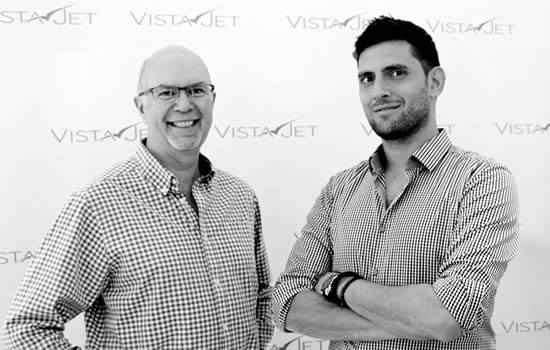 Bon Soirée Founder Derek Freeman (left) with Diego Sabino, Vice President of Private Dining at VistaJet.
Expertise is at the core of Bon Soirée 40-strong team, which has just welcomed Consultant Chef Alan Bird, who joined the business after two decades at The Ivy and has already started to bring in specialist chefs to provide an ongoing new training programme.
Chef Bird, along with Bon Soirée Founder and Director Derek Freeman and Head Chef Alan Bell, has already started consulting with Mr Sabino's team on the new seasonal menu. "We want to make it as easy as possible for VistaJet's Cabin Hostesses to provide passengers with a seamless dining service, so we have come up with a unique food labelling system," said Derek. Alongside clear cooking instructions sit colour photos detailing the presentation of each dish and 14 allergens are assessed and marked accordingly.
"We are delighted to be entering our sixth year of collaboration with VistaJet. The brand is synonymous with quality and style and their discerning clientele is renowned for their taste and knowledge. We are proud to be playing our part to ensure that passengers flying VistaJet from London enjoy a memorable dining experience."
Signature dishes include Char-grilled Poussin Breast on Toast with Creamed Morels to start, followed by Sea Bass Provençal and a dessert of Rhubarb Parfait.
VistaJet will be exhibiting at EBACE in Geneva next week (28th-31st May) on Stand D69.