Bombardier's class-defining business jet, which is surpassing commitments during flight testing, will now be known as the Global 7500 aircraft, in concert with the recent unveiling of the new Global 5500 and Global 6500 aircraft.
"Our Global family of aircraft is entering a new era, with the Global 7500 aircraft as its flagship," said David Coleal, President, Bombardier Business Aircraft. "The market's largest and longest range business jet will soon be joined by our newest additions, the Global 5500 and Global 6500 aircraft, reinforcing the fact that our Global family is, by far, the best large-cabin aircraft family in business aviation."
The Global 7500 aircraft is on track to enter service during the second half of 2018. All five of its test vehicles are in the flight test program, with more than 2,000 hours of flight testing accomplished, demonstrating significant maturity, reliability and a smooth ride.
Bombardier recently revealed that the Global 7500 aircraft boasts an unmatched range of 7,700 nautical miles, a full 300 nautical miles further than initial commitments. It is the only business aircraft that can connect New York to Hong Kong, and Singapore to San Francisco, nonstop. Today, Bombardier is proud to announce further performance enhancements, which, like the range extension, will come at no additional cost to customers.
Thanks to its sophisticated wing design, rigorously tested during the flight validation program, the Global 7500 aircraft has also exceeded takeoff and landing performance commitments, leading to a new published takeoff distance of 5,800 feet at full fuel in standard operating conditions. This improved takeoff performance distance is almost 500 feet shorter than the closest, and much smaller, competitor aircraft and enables the Global 7500 aircraft to access airports with shorter runways.
The landing performance of the Global 7500 aircraft has also been improved - now rivalling the stopping distance of aircraft in the Light jet category - and with the low-speed aerodynamics of its wing, the aircraft can land effortlessly in steep approach air fields, such as London City. Thanks to the superior wing design on the Global 7500 aircraft, customers will now enjoy class-leading takeoff and landing performance, a maximum cruise speed of M 0.925 and a uniquely smooth ride.
The Global 7500 program's innovative and industry-leading ground testing, combined with the extensive use of proven engineering tools and simulation, allowed for a very mature aircraft at the start of flight testing and an efficient flight validation program. Full-scale structural testing of the aircraft was successfully concluded on the Complete Airframe Static Test (CAST). Full-scale fatigue testing is also executing per plan, and Bombardier has successfully completed one lifetime of simulated flights, which exceeds the requirements at time of certification.
"The rigour and innovation behind our Global 7500 aircraft design and test program have allowed us to deliver enhanced performance without compromise," said Stephen McCullough, Bombardier's Vice President of Integrated Product Development for the Global 7500 and Global 8000 Program. "Thanks to our innovative designs, coupled with extensive and unprecedented use of integrated ground test rigs and simulators, our flight test vehicles have shown maturity and performance that surpass our initial commitments."
Upon entry into service, the Global 7500 aircraft will offer spaciousness that is unique among business jets, with a full-size kitchen and four true living spaces. The Global 7500 aircraft also debuts Bombardier's patented Nuage seat, which was meticulously designed for maximum comfort and will be exclusive to the new Global family of aircraft.
Bombardier's Global 7500 aircraft is the recipient of a 2018 Red Dot Award for Product Design.
HK Bellawings Jet signs MOU for up to 18 Global 6500s and 7500s
Bombardier has signed a letter of intent for up to 18 Global 6500 and Global 7500 business jets with HK Bellawings Jet Limited, a leading aircraft management company based in Hong Kong.
If all firm orders and options are exercised, the transaction would be valued at approximately $1.14bn US based on 2018 list prices.
"We're thrilled with the tremendous response we have received since launching our newest Global aircraft just days ago," said Peter Likoray, Senior Vice President, Worldwide Sales and Marketing, Bombardier Business Aircraft. "Our leading Global aircraft will contribute to the continued success of HK Bellawings Jet Limited and its operations in the region."
"We are glad to announce our letter of intent to purchase 18 Global 6500 and Global 7500 on the first day of EBACE. Global 6500 and Global 7500 are the top-of-the-range aircraft from Bombardier's latest generation. The two models align with HK Bellawings' rapid development to be a one-stop business aviation solution, empowering us to reach higher and further in the long run," HK Bellawings' President Mr. Zhang Yijia said.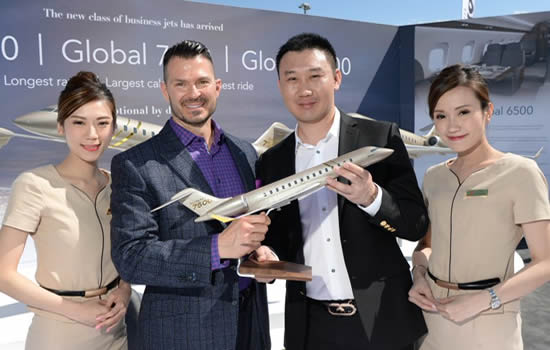 David Coleal, President, Bombardier Business Aircraft (middle left) and Zhang Yijia, President, HK Bellawings (middle right), announce Letter of Intent for up to 18 Global aircraft.
The recently launched Global 6500 jet and the renamed Global 7500 aircraft set the standard with the longest range and the largest cabins in their respective classes-all while offering Bombardier's signature smooth ride. The Global 6500 aircraft joins the high-performing Global aircraft family, offering additional range and speed, as well as highly favorable operating costs versus smaller competing aircraft with less range. The Global 6500 can connect Hong Kong or Singapore with London.
Based in Hong Kong, HK Bellawings Jet Limited is a distinguished business jet management company dedicated to providing a diverse array of professional, highly efficient and comprehensive business aviation services and solutions, which include business jet management, aircraft maintenance, travel concierge service, aircraft acquisition service, and business aviation consultancy. They operate a fleet of Challenger and Global business aircraft.
Worldwide Mobile Response Services significantly expanded ahead of Global 7500s entry-into-service
Bombardier will add a dedicated Challenger 300 aircraft to its worldwide Mobile Response Team, already one of the most comprehensive onsite, mobile and aircraft-on-ground resolution services in the industry.
Building on the success of the North American Mobile Response Team Learjet 45 aircraft, the Challenger 300 aircraft will be based in Frankfurt, Germany, within easy reach of Bombardier's main European parts distribution hub located near Frankfurt International Airport.
The new Challenger 300 support aircraft will shuttle parts and technicians 24/7 to rapidly resolve AOG situations for Bombardier Learjet, Challenger and Global aircraft.
"Over the past five years, we have consistently seen the rise of our fleet reliability across all of our aircraft platforms. Now, with the combination of a fast, reliable, super-midsize aircraft with the ready availability of parts and our skilled technicians, we are bringing our response services to a new level," said Jean-Christophe Gallagher, Vice President and General Manager, Customer Experience, Bombardier Business Aircraft.
Thanks to its impressive capabilities, the Challenger 300 aircraft, which can fly 3,065 NM (5,646 km) non-stop at a speed of M0.80 and operate in and out of some of the world's most challenging airfields, will provide additional support during unscheduled maintenance events.
Bombardier is currently paving the way for the Challenger 300 aircraft to join the Mobile Response Team in the second half of 2018, ahead of the entry-into-service of Bombardier's game-changing Global 7500 aircraft - the industry's largest and longest-range business jet. A Learjet 45 aircraft, based in Chicago, Illinois, has been providing 24/7 support for Bombardier's customers since 2014.
"Bombardier values its customers' peace of mind, which is why we remain focused on investing in our Mobile Response Team services, so that they bring even greater satisfaction to our growing worldwide customer base," added Gallagher.
In recent months, Bombardier has increased its customer response capability appreciably. Several more Mobile Response Team trucks have been deployed, bringing the current worldwide total to 23. The company has added six new line maintenance stations in Europe and established Maintenance Control Centres (MCCs) in Wichita, Kansas and Linz, Austria. The new MCCs work in conjunction with Bombardier's Customer Response Centre to streamline customer requests and direct maintenance support in the most efficient manner to ensure flawless return to service.