Gulfstream Aerospace Corp's G500 is nearing completion of function and reliability (F&R) testing, which will mark the end of the flying required for U.S. Federal Aviation Administration (FAA) type certification later this summer.
Gulfstream's other in-development aircraft, the Gulfstream G600, is well into its certification program.
"We share our customers' excitement about the G500's pending certification and entry into service," said Mark Burns, president, Gulfstream. "The work we've done over thousands of hours of testing will result in an all-new aircraft that performs with a level of maturity and reliability atypical of a clean-sheet design. The five G500s in the program are accumulating considerable flying hours, as planned, and performing extraordinarily well. The rigor and discipline of our program, which began with lab work years before our first flight, give us complete confidence that the aircraft we deliver to customers this year will surpass their exacting standards.
"The Gulfstream G600 program continues to benefit from what we've accomplished with the G500. We have had excellent results in G600 certification testing and are scheduled to begin field-performance testing this summer."

The G500 has also completed certification tests for flight into known icing and high-elevation conditions.

During F&R testing, the fourth G500 flight-test aircraft stayed aloft for a program-best 11 hours and 12 minutes, traveling 5,204 nautical miles/9,638 kilometers.

The 300 hours of F&R testing required by the FAA for aircraft with new engines will ensure the G500, including its components and equipment, is reliable and functioning properly.

This is done by flying the aircraft in conditions representative of normal in-service experience.
Gulfstream has been demonstrating the reliability, maturity and readiness of the G500 during a six-month world tour slated to end June 10 in Paris. So far on the tour, the G500 has logged more than 240 flying hours and over 100,300 nautical miles during 69 flights to 41 airports in 21 countries on six continents.
To date, the five G500 aircraft in the flight-test program have accumulated more than 4,955 flight hours over more than 1,355 flights.
The G600, meanwhile, recently finished collecting data that will be used by FlightSafety International to build a Level D full-motion simulator. The aircraft is currently undergoing mechanical systems certification testing. The five G600 aircraft in the flight-test program have logged more than 1,950 flight hours during more than 510 flights.
G650ER completes record-breaking Polar flight
The ultra-long-range G650ER has again proven its unmatched performance capabilities, adding yet another city-pair speed record, this time during a flight over the North Pole.
The G650ER departed White Plains, New York, at 1:30 p.m. May 12 and arrived in Shanghai at 3:10 p.m. local time May 13. Flown at an average speed of Mach 0.86, the 6,870-nautical-mile/12,723-kilometer flight took just 13 hours and 40 minutes.
"It has been a busy year for the G650ER, with this impressive polar feat pushing its record total well above 70," said Mark Burns, president, Gulfstream. "It is one of the only aircraft with the high-performance capabilities required for challenging polar flights. Access to these demanding, long-range routes is invaluable for our customers."
The G650ER can fly 7,500 nm/13,890 km at Mach 0.85 and has a maximum operating speed of Mach 0.925. It is powered by two Rolls-Royce BR725 engines and can fly up to 19 passengers.
The city-pair record is pending approval by the National Aeronautic Association.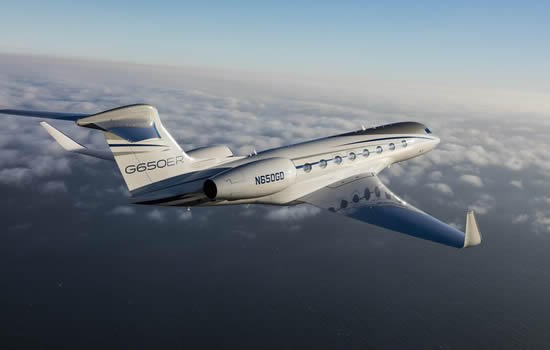 Interiors and seats earn design awards
Gulfstream's Interior and Industrial Design teams recently earned 2018 International Yacht & Aviation Awards for the all-new Gulfstream G500 and Gulfstream G600 seat and cabin designs.
"This recognition speaks to the creativity, craftsmanship, quality and customer-centric design focus inherent throughout the Gulfstream product line," said Mark Burns, president, Gulfstream. "The Gulfstream G500 and Gulfstream G600 showcase our ongoing commitment to a high-quality customer experience that is tailored precisely for our customers' productivity, comfort and design aesthetic. I am incredibly proud of our very talented team for winning these awards."
The fully outfitted G600 test aircraft earned the Private Jet Design award for its three-living-area cabin with crew rest, which demonstrates the flexibility that is part of the Gulfstream design DNA. A central focus of the winning G600 design is the mirrored mid-cabin bulkhead, a literal reflection of the customer experience and cabin versatility. Reflection continues in subtle ways, from the layered, mixed grain on the mocca oak veneer that catches the light with understated elegance to the geometric carpet pattern that mimics the herringbone design of the seats' perforated and quilted inserts. The four-living-area G650ER won the same award in 2017.
Gulfstream's mission-specific seating, created for the G500 and G600, took home the seating award in the Product Category. The seat styles feature three design aesthetics, Sport, Classic and Minimalist, that serve as starting points for customization. The seating was created in Gulfstream's Research and Development Center, where industrial and interior designers, the engineering team and upholstery shop collaborated on the aesthetics, ergonomics and functionality that led to the final design.
(L to R): Classic, Sport and Minimalist seats.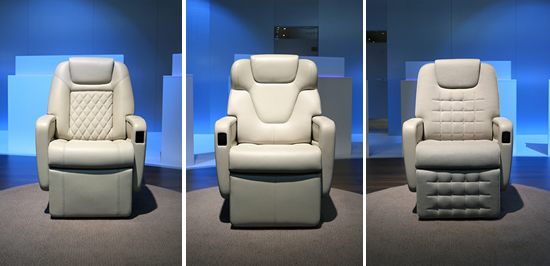 The Classic seat aesthetic offers an elegant design with mid-level bolstering that creates a blend of strong support and generous freedom of movement.
Sport provides robust bolstering that evokes high-performance standards and is ideal for long periods of sitting. The Sport seat includes a contoured mattress insert for berthing.
The Minimalist seat provides the least amount of bolstering in favor of a comfortable conversion to berthing for the passenger who desires a greater focus on the sleeping surface for long-range flights.
The individual tailoring of all three seat styles starts with additional design details such as quilted inserts; decorative stitching; seat arm accents in leather, fabric, veneer or lacquer; and Gulfstream's wide variety of fine leathers and upholstery, all custom-crafted for each aircraft.
The G600 interior and seats have been tested as part of Gulfstream's rigorous flight-test programs for the G500 and G600 to ensure the aircraft perform as they should long before customer deliveries, which are expected later this year and in 2019, respectively.
Worldwide sales team expanded
Gulfstream has expanded its Worldwide Sales team to further enhance the company's focus on customers and their sales experiences.

The Sales organization has grown from five to seven divisions with increased attention on the Northeastern United States; Europe, Russia and the Commonwealth of Independent States (CIS); and Africa, the Middle East and South Asia.

"Our Sales team supports customers throughout their Gulfstream journey, from initial sales discussions and fleet planning to delivery and beyond," said Mark Burns, president, Gulfstream. "As demand for the G650 and G650ER continues to soar and the G500 and G600 come closer to certification and delivery, we want to ensure customers have consistent access to Gulfstream anywhere in the world."

Two Gulfstream Sales executives have been promoted to regional senior vice president roles: Mike West in the Northeastern U.S. and Nic Robinson in Africa, the Middle East and South Asia. West moves into his new role from Sales director, Metro New York, while Robinson, formerly regional vice president, Sales, Africa, leads the newly formed Africa, Middle East and South Asia sales territory.

With these new appointments and territory assignments, Trevor Esling, regional senior vice president, will lead Gulfstream's focus in Europe, Russia and CIS to support strong growth in the region, Gulfstream's second-largest international market.

Combined, the three have been supporting Gulfstream customers for more than 30 years.

To further support the newly expanded sales territories, two new regional vice presidents have joined Gulfstream. Mike Swift takes on the role of regional vice president for the Metro New York region, reporting to West, and Marc Strange serves as regional vice president, Africa, and reports to Robinson. Swift joins Gulfstream from Bank of America Merrill Lynch, where he was director of global corporate aircraft finance. Strange most recently served as director of aircraft sales for Southern and Central Africa for Embraer Executive Jets.

"I am pleased to congratulate Mike West and Nic Robinson on their promotions and welcome Mike Swift and Marc Strange to their new roles at Gulfstream," said Scott Neal, senior vice president, Worldwide Sales, Gulfstream. "They join a deeply experienced and professional sales team and will enhance Gulfstream's position as a leader in business aviation."

In addition to the newly defined territories, Gulfstream's Worldwide Sales divisions also include Central, Mid-Atlantic and Southeastern U.S., led by Bill McLeod; Western U.S., led by Brent Monroe; Florida and Latin America, led by Fabio Rebello; and Asia Pacific, led by Roger Sperry.

Marc Strange
Mike Swift
Mike West
Nic Robinson
Trevor Esling