Luxaviation Group has announced the launch of a strategic partnership with Colombo Wealth Management S.A., a family office and wealth management company based in Lugano, Switzerland, with subsidiaries in Zürich, Geneva and Luxembourg.
Luxaviation customers based in Europe will benefit from Colombo's wealth management provision, which includes asset and fund management, corporate advisory services and family office planning. An aviation specialist will also be appointed to a new Luxaviation Colombo branch office in Lugano, opening in June, to ensure all charter, aircraft management and transaction requests are managed expertly and efficiently.
Patrick Hansen, CEO Luxaviation with Dario Colombo, owner Colombo Wealth Management.
Patrick Hansen, CEO, Luxaviation Group said, "With over 40 years' experience in financial services, we're confident that Colombo's industry intelligence in the wealth management sector is a natural fit with Luxaviation's deep understanding of the business aviation industry.
"This partnership, based on the sharing of knowledge and experience, will greatly benefit our customers, who can be confident that their wealth, assets and aircraft will be handled with expertise and finesse."
Sibylle Peter, member of the board of directors, Colombo Wealth Management, adds: "We're delighted to have entered into this strategic partnership with Luxaviation, a company renowned for its industry-leading customer service. Both Colombo and Luxaviation are independent, client-centric businesses, and our shared values make us natural collaborators. We look forward to a fulfilling relationship going forward."
Luxaviation Helicopters announces first international VIP partnership with HeliFlite
Luxaviation Group's dedicated VVIP helicopter service, Luxaviation Helicopters, has formed a strategic partnership with HeliFlite Shares LLC, the premier VIP rotorcraft operator in the US.
The deal marks the first ever international partnership of VIP and VVIP helicopter operators, with Luxaviation customers set to benefit from a safe, seamless service to and from New York, Chicago and Florida.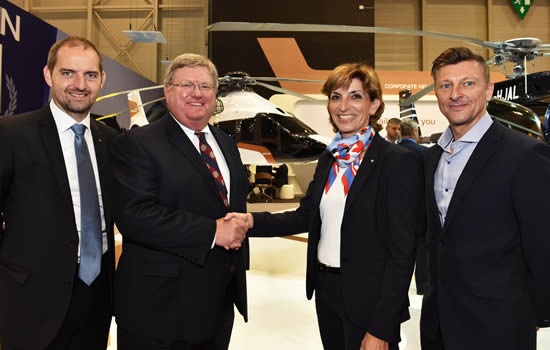 (L to R): Manu Schmitz, Business Development Executive, Luxaviation Helicopters; Kurt Carlson, Chairman & CEO, Heliflite; Charlotte Pedersen, CEO, Luxaviation Helicopters; Julian Wheeler, Director of Operations, Heliflite.
Charlotte Pedersen, CEO, Luxaviation Helicopters, says: "We seek out local partners that know and understand their region, in order to provide customers from across the globe access to a service that is established, reputable and customer-oriented.
"HeliFlite, a long-standing VIP operator in the US, is a natural partner to Luxaviation Helicopters. The company is renowned for its safety standards, and is a Wyvern Wingman and ARGUS Platinum certified operator – the highest safety rating in America. This dedication to achieving the highest standards of safety and service resounds with Luxaviation's own, and we look forward to a fulfilling relationship with HeliFlite."
Kurt Carlson, CEO, HeliFlite, adds: "The interconnected service between HeliFlite and Luxaviation Helicopters means customers can now book a rotorcraft wherever they wish to travel with complete confidence, saving brokers and passengers the time needed to ensure they're choosing the best and safest service providers.
"We're delighted to be partnering with such a globally respected company, which shares our belief in offering customers a safe, swift and luxurious route from destination to destination. With access to Luxaviation's worldwide fleet of more than 270 aircraft and 50 helicopters, we are further extending the ultimate form of travel to a growing number of HeliFlite passengers."
Honeywell GoDirect selected as airtime services and connectivity partner
Luxaviation Group will use Honeywell GoDirect to provide connectivity services across its fleet of business jets.
Honeywell GoDirect will supply Luxaviation's aircraft with cockpit datalink, flight support and cabin connectivity services from nose to tail, as a result of the ever-increasing demand for connectivity and increased speed onboard.
Luxaviation stands to benefit from Honeywell GoDirect's advanced and tailored connectivity solutions, access to both ARINC and SITA VHF networks and the new Flight Bag Pro app, with its Eurocontrol Routing Engine and airport plates and maps features.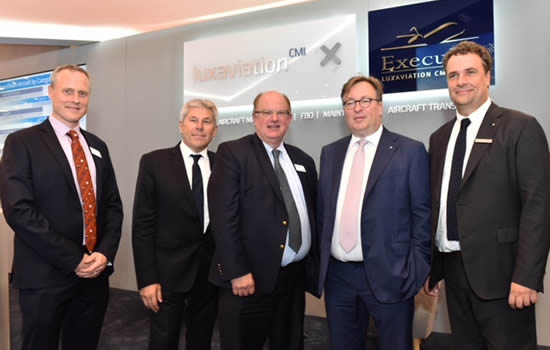 (L to R): Thinus Svendsen, Sales Director, GoDirect, Honeywell Aerospace; Bernard Guillot, Sales Manager, Connectivity, Honeywell Aerospace; Randy Anderson, Aerospace Leader - EMEAI, Honeywell; Patrick Hansen, CEO, Luxaviation Group; David van den Langenbergh, Chief Technical Officer, Luxaviation Group.
David van den Langenbergh, Chief Technical Officer, Luxaviation Group, says: "We chose Honeywell GoDirect as our connectivity hardware and services partner because of its one-stop-shop solution, giving us peace of mind that operations will run smoothly. The fact that Honeywell provides technical support all over the world was a trump card, because, as a leading international business aviation charter operator, the fact that we can get any issues resolved in any number of countries is essential.
"We are looking forward to rolling this service out across our fleet, enabling our pilots, customers and cabin crew to stay connected - enhancing and building on the world-class experience they have come to expect from the Luxaviation Group."
Thinus Svendsen, Director Sales Europe, Honeywell GoDirect Services and Connectivity, says: "We are very proud to have been selected by Luxaviation Group to provide cabin airtime and cockpit connectivity services to its large fleet of aircraft. We already have a great relationship with Luxaviation as a hardware supplier, but the expansion to the provision of airtime and connectivity services has greatly enhanced our relationship. We are looking forward to working with Luxaviation to ensure their clients get the world-class in-flight connectivity that they expect."
JetHQ DMCC acquires Luxaviation's Aircraft Transaction Division
JetHQ DMCC, headquartered in Dubai UAE, has finalised an agreement to acquire Luxaviation's Aircraft Transaction arm.
JetHQ has representation in the UAE, USA, India and Turkey. The acquisition of Luxaviation's aircraft sales entity will strengthen JetHQ's presence in Europe, further consolidating JetHQ's global reach and enabling JetHQ to become a key player in the provision of aviation brokerage services worldwide.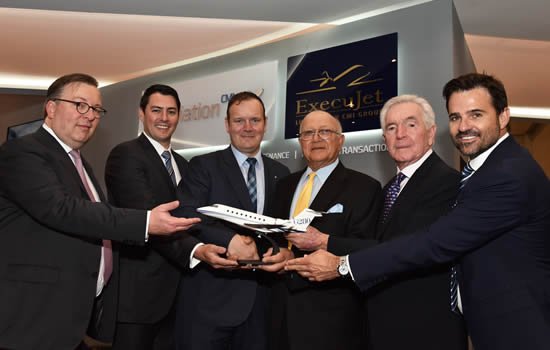 (L to R): Patrick Hansen, CEO Luxaviation; Garett Jerde, Managing Director, JetHQ; Allan Stanton, President of Sales, Jet HQ; Christophe Lapierre, Chief Commercial Officer Luxaviation; Ted Farid, Chairman, Jet HQ; Gene Rainville, Chief Advisor, Jet HQ.
JetHQ's Managing Director, Garett Jerde, said of the acquisition: "We are excited to welcome Luxaviaton's brokerage team to JetHQ and to providing its customers with world-class service."
As a leader in the industry, with a team of experienced sales professionals, JetHQ has established strategic business partnerships and relationships with many OEMs and other successful aviation professionals. This established network provides JetHQ a unique opportunity to bring together qualified buyers and sellers. This means they can maximise values while also retaining the highest level of professionalism and offering worldwide turn-key aviation services. By combining regional expertise and infrastructure with a worldwide reach JetHQ offers a full-service aviation organisation with a significant competitive advantage.
Stratajet streamlines Luxaviation bookings through integration of pricing engine
Stratajet has announced a major leap forward for private aviation, offering its cutting-edge technology directly to aircraft operators.
In a first for the industry, Stratajet, the only booking platform to offer fliers direct access to the private jet marketplace, is helping operators streamline their customer bookings. A white label product agreement is allowing operators to build Stratajet's unique software into their own websites.
As a pioneering partner of this initiative, Luxaviation, one of the largest private aviation operators worldwide, will be the first to offer customers accurate availability and prices of private jets through it's own channels, with flights then instantly bookable online. Stratajet's dedicated team of programmers has worked closely with Luxaviation to ensure integration of its product, which will go live at the beginning of June.
Offering direct access to its fleet in this manner will dramatically streamline Luxaviation's operations, removing the need for manual confirmation of bookings by its staff. Luxaviation will also take advantage of Stratajet's adaptive empty leg search algorithms. These automatically include empty legs in searches and, where necessary, adapt them to suit new requests, providing significantly improved margins for the operator and considerably reduced costs of flights for customers.
Jonny Nicol, Founder and CEO of Stratajet, commented, "When we set out to build our own pricing engine that could eliminate inefficiency and wastage across the industry, we committed to bringing the private jet industry into the mainstream. Now that we are in the unique position of being able to offer the industry that platform, we remain committed to helping the industry streamline its processes for operators and customers alike. It is the scope of more and more travellers gaining access to this means of travel for the first time that has driven - and continues to drive - our growth and the fact that Luxaviation shares this vision is a major step change for private aviation."
Patrick Hansen, CEO, Luxaviation Group, added: "We continually seek to improve our service offering and work with business aviation companies which can add value to our operations and end clients. We look forward to working with Stratajet to enhance our integrated solutions."
The move stamps Stratajet's position as the private aviation industry's leading technological provider. Stratajet remains in talks with other operators to roll out this initiative on a wider basis, with the aim of removing inefficiency across the market and broadening the private jet audience.