TAG Aviation Asia is set to operate a Fixed Base Operation at Macau International Airport.
The Hong Kong headquartered operator has agreed to a six-year concession agreement with the Macau Airport Authority (CAM-Sociedade do Aeroporto Internacional de Macau S.A.R.L.) to provide a full-service facility operation, 24/7, at this international destination.
Macau is the first destination FBO for TAG Aviation within the Asia Pacific region and is in full alignment with the operator's goals of continuing to expand its business to meet the continuing growth in the Asia Pacific region. The FBO is scheduled to be operational the fourth quarter of 2018 at Macau International Airport to commence serving business aircraft.
"The Macau FBO is a unique opportunity for TAG Aviation to continue to expand its global network to deliver world-class FBO services in the Asia Pacific region," said Erturk Yildiz, Accountable Manager, TAG Macau FBO. "Macau is fast becoming a destination of choice and the Government is fully supportive to promoting the growth of business aviation."
TAG Asia's Macau FBO will join TAG's other FBO networks based at Farnborough, Geneva and Sion to continue to provide the very best integrated FBO services. TAG Farnborough Airport in the UK and TAG Aviation's Flight Centre based at Geneva International Airport are repeatedly voted some of Europe's best private jet facilities which recognises the superior quality customer services and amenities that are available for passengers, pilots and flight crews.
Redefining the simplicity of private jet aviation
Private Jet travel is not only a fast, ultra convenient and safe mode of transport, it also opens up the freedom and flexibility that is associated with owning or chartering a private aircraft.
TAG Aviation recognises that its clients want to enjoy all these benefits but in the most straightforward way possible and one that will exceed their expectations. For this reason TAG continues to develop new programs and products to further enhance every client's travel experience.
For charter clients, TAG Aviation has designed the new ONE Account which is a unique and transparent alternative to traditional jet cards and fractional ownership and removes the complexity and jargon often associated with competitor programs. Cutting unnecessary administrative formalities and increasing operational efficiency, clients will now have the opportunity to enjoy a customer focused charter experience like never before.
With no contract to sign, customers simply contact their designated Account Manager whenever they require a jet or charter solution. There are no time restrictions, geographical limitations or minimum number of flying hours and prices are all inclusive on a fee per-hour basis. The ONE Account by TAG offers unrivalled flexibility and unrestricted freedom which combined with the levels of service expected from TAG creates a very attractive jet travel option.
In addition, TAG's comprehensive understanding of its aircraft owners' needs, both on the ground and in the air, will assure new clients who come onboard of an optimum travel experience. This has been enhanced further by the introduction of a new Aircraft Management Fees structure which will also prove popular with aircraft owners whose private jet needs vary throughout the year and who want the guarantee that they will only pay for the preparation and use of an aircraft on a personal requirements basis. Based on a fee per hour in the case of flight only this new structure combines simplicity and transparency to make this new Management Program the most attractive of the market.
Simplification also extends to the streamlining of TAG Aviation's maintenance services operations, with the launch of a Maintenance Control Centre (MCC) to centralise the management of all AOGs and MRT requests, with one Customer Service contact number available 24/7 to request technical assistance throughout its ten International MRO maintenance centres which comprises six throughout Europe as well as Lomé (Togo), Hong Kong in Asia, Luanda in Angola and Sheremetyevo in Moscow.
TAG Aviation remains committed to delivering seamless clarity for its clients in everything it does and delivering the highest possible private aviation operating standards right across the range of services it operates. From maintaining the safest, most efficient maintenance services operations through to providing the widest choice of aircraft for charter, TAG continuously strives to deliver an unrivalled customer service experience that surpasses the exacting needs of every client and their individual lifestyle choices.
New Maintenance Control Centre in Portugal
TAG Aviation is creating a Maintenance Control Centre (MCC) at Lisbon/Cascais Aerodrome (LPCS) from June 2018.
This will enhance TAG Aviation's current Mobile Repair Team (MRT) operations, with maintenance services support now available from eight locations throughout Europe.
The MCC will simplify the centralised handling of all AOGs and MRT requests, with one Customer Services contact number, available 24/7, to request assistance from TAG's highly-trained technicians.

TAG's dedicated maintenance services teams will be able to swiftly respond to clients' requests, even at short notice, and can be dispatched from anyone of its locations.

"One central contact number empowers our maintenance services teams to be able to respond very speedily to our clients' needs across the full range of maintenance service capabilities we operate, minimising downtime, and further supporting our on-going commitment to maximise the efficiency of our clients' operations", said Franck Madignier, President Maintenance and FBO Services, TAG Aviation Europe.
TAG has approved MRO maintenance centres right across Europe, including Geneva, Sion, Paris, Lisbon, Farnborough, Cermont Ferrand as well as Lomé (Togo), Hong Kong in Asia and recently opened line stations in Luanda in Angola and in Sheremetyevo in Moscow. TAG Maintenance services is approved by all main aircraft manufacturers and certified to undertake work on over sixty aircraft types.
TAG Aviation Geneva becomes Authorised Service Facility Network for all Bombardier business aircraft
TAG Aviation Geneva's current status as an Authorised Service Facility (ASF) for Bombardier Learjet and Challenger aircraft has been extended to also include Global business jets.
The centre is now able to provide line maintenance services for Global Express, Global Express XRS and Global 5000 aircraft, as well as Global 5000 and Global 6000 aircraft equipped with the Bombardier Vision flight deck.
This new capability strengthens TAG Geneva's service offering for the Bombardier product line and complements the wide range of high quality maintenance service facilities already available at TAG's other maintenance bases in Le Bourget and at Farnborough Airport, which have been Bombardier ASFs since 2013 and 2006, respectively.
"We enjoy an excellent relationship with Bombardier and because we have the ability to provide services for all maintenance events within our network it is only natural that the progression of our business in Geneva adds the Global aircraft ASF designation", said Franck Madignier, President Maintenance and FBO Services, TAG Aviation Europe. "This welcome extension will further reinforce Bombardier's strong OEM support in the region and ensures that our customers have on going access to the highest quality maintenance and support services at all times."
"TAG perfectly complements our growing European network that recently saw the expansion of line maintenance and mobile response capabilities. Through this relationship with TAG, Bombardier's customers have access to even more industry-leading maintenance services in Europe, where more than 600 Bombardier business aircraft are active," said Jean-Christophe Gallagher, Vice President and General Manager, Customer Experience.
TAG Farnborough Airport selected as location for new Gulfstream UK Service Centre

Europe's leading business aviation airport, TAG Farnborough Airport has been chosen as the location for Gulfstream Aerospace Corporation's London Area Service Centre with a state of the art, purpose-built facility expected to be operational by the third quarter of 2020.

The new MRO facility will include office space, customer areas, shop space and a hangar able to accommodate up to 13 large-cabin aircraft. Significant ramp space will also be included, along with a car parking area. The entire facility is projected to cover approximately 180,000 to 220,000 square feet/16,723 to 20,439 square metres.

"We are delighted that Gulfstream has selected TAG Farnborough Airport as the location for its new MRO. We welcome this investment which will benefit the regional economy and underpin the airport's role in supporting jobs and economic development. As Europe's leading business aviation airport and a London gateway, we are well placed to meet the specific requirements of Gulfstream and its customers," said Brandon O'Reilly, CEO TAG Farnborough Airport.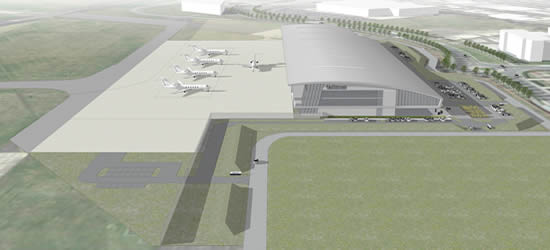 Impression of the new Gulfstream MRO facility.
"We chose TAG Farnborough Airport because it is a London gateway airport dedicated exclusively to business aviation. Frequented by many of our operators, it offers amenities that complement our brand, with the space required for our current construction plans and future growth," said Derek Zimmerman, president, Gulfstream Product Support. "In the last six months, we've announced several new MRO facilities and expansions, including Van Nuys, California; Appleton, Wisconsin; Savannah and now the United Kingdom. The growth of the Gulfstream fleet and increased size of our aircraft are driving the need for continued growth and additional capacity in our service centre network."

Graham Stuart, Minister for Investment said: "TAG Farnborough Airport being selected as the location for the new MRO facility is yet another vote of confidence in the UK's aerospace sector, which is already responsible for 17% of the entire global aerospace market. "As an international economic department, DIT will continue to encourage investment from overseas. Earlier this month we launched a new online portfolio of investment opportunities worth £30bn, and in turn this will drive growth and create jobs in our economy."