London Biggin Hill has announced the arrival of Textron Aviation to the airport.
The new facility, which opened earlier this month, will provide line maintenance support to customers for Citation, King Air and Hawker aircraft, including the soon-to-be-certified Citation Longitude, Textron Aviation's largest ever jet. The move further establishes London Biggin Hill as the UK's leading business aviation hub, offering access to a full complement of services to both visiting and home-based aircraft.
Robert Walters, business development director, London Biggin Hill Airport, says: "At London Biggin Hill, we pride ourselves on the quality of our customer service, and this extends to our on-site MRO operations. Over the past 12 months, three leaders in MRO services have chosen to open new facilities at the airport, and many of our resident businesses continue to seek expansion. This boost to the airport's maintenance capabilities will allow the site to serve an ever-growing number of customers.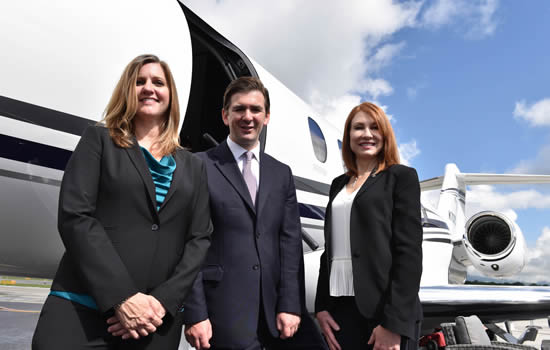 At Textron Aviation's EBACE 2018 static display (L to R): Heidi McNary, vice president of European Service Centres, Textron Aviation; Robert Waters, business development director, London Biggin Hill; Kriya Shortt, senior vice president of Customer Service, Textron Aviation.
"The growth of MRO operations is vital to our success, as business aviation movements continue to accelerate. In Q1 2018, flight activity at the airport rose by 17%, according to WingX. Textron Aviation customers will now be able to access our new extended operating hours and unrivalled capacity; and with the addition of this industry-leading OEM, we are primed to support the increasing number of business jets choosing to fly from London Biggin Hill Airport."