Air BP invests in growth of Australian network
Air BP has strengthened its Australian network. Following the addition of Bundaberg airport (BDB/YBUD) in Queensland and Busselton airport (BQB/YBLN) in Western Australia in March, the company has now started supplying Jet A-1 fuel at Cloncurry airport (CNJ/YCCY) in Queensland.
The three locations will serve both commercial and general aviation customers and brings the number of Australian airports where Air BP offers refuelling services to 76. Air BP's commitment to delivering the most comprehensive fuelling network in the country is underpinned by their extensive operational experience in Australia and understanding of the need for safe, fit-for-purpose fuelling services at regional airports.
Alan Wilson, managing director, Air BP Asia Pacific comments: "We will keep investing in our network in Australia to provide fuel and services at thriving airport locations like Busselton, Bundaberg and Conclurry. Whether we are supplying fuel, designing and operating facilities or providing technical advice, it's about doing more with our existing customers, as well as finding new ones to work with."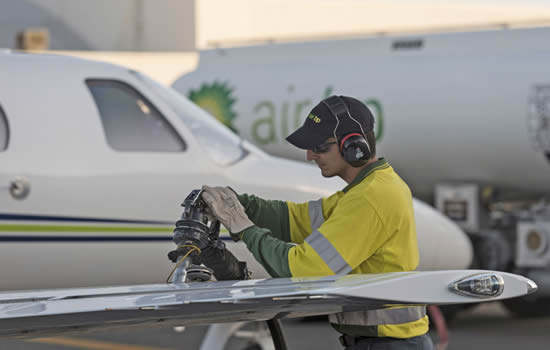 Air BP refuels an operator's aircraft in Australia.
On 1 June Air BP added Jet A-1 to their supply of Avgas at Cloncurry airport following demand from customers such as Virgin Australia and Qantaslink, who operate regular scheduled services from the airport.
Air BP's operations at Bundaberg airport started on 26 March. Located 400km from the state capital of Brisbane at the southern tip of the Great Barrier Reef, it serves a growing customer base including Qantas and Virgin Australia. It is one of the operational bases of the renowned Royal Flying Doctor Service (RFDS), who recently announced that Air BP had become a National Partner. Expansion plans are currently underway at Bundaberg for an aeromedical precint.
Air BP has invested in two new 110,000 litre jet fuel tanks and a self-serve facility at Busselton airport. Following three months of planning, the new tanks were completed in February and tested ahead of the first fuelling on 13 March. Air BP's investment will support the airport's expansion which includes a new terminal and extended runway. Located 220km south of Perth, Busselton serves the popular Margaret River wine region.
Air BP renews contract at UK's Blackbushe Airport
In further news, Air BP has renewed its fuel supply contract at Blackbushe Airport (BBS/EGLK) in the UK, effective immediately, supplying Jet A-1 and Avgas 100LL.
Customers will be able to use their Air BP Sterling Card to purchase fuel, in addition to ordering and paying for fuel via the RocketRoute MarketPlace platform.
The company has been supplying Blackbushe since 2012 and during this period has invested in the installation of a new fuel storage facility and two new fuel bowsers.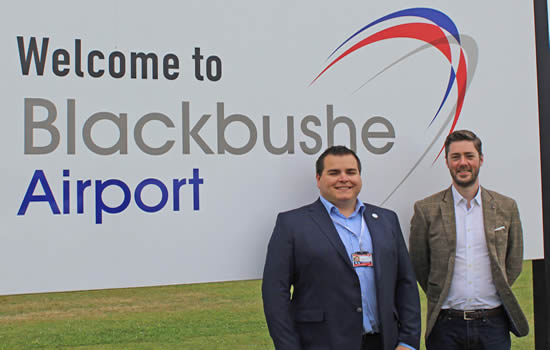 Chris Gazzard, Blackbushe Airport manager (left) with Russell Halley, Air BP general aviation regional sales manager, UK.
Russell Halley, Air BP general aviation regional sales manager, UK said: "We are very pleased to continue to supply Blackbushe Airport demonstrating our continued commitment to our general aviation customers in the UK. We look forward to deepened co-operation between our team and that of the airport and to welcoming our customers this summer."
Chris Gazzard, Blackbushe Airport manager, added: "Maintaining a robust and safe fuelling operation is critical for any aerodrome, and I am pleased that this will continue at Blackbushe in collaboration with Air BP. Their service and equipment quality has been second-to-none. We were supported in our previous contract, benefitting from the much-needed investment in the fuelling facilities. We can continue to deliver an excellent quality product. We are excited to continue to welcome Air BP Sterling Card holders."
Conveniently, Air BP can provide Avgas from the airport's fuel storage facility, or both Avgas and Jet A-1 on stand from Mercedes mobile bowsers.
Introduced by Blackbushe in late 2017, Rotors Running Refuelling for helicopters is available by prior arrangement, enabling faster and more efficient refuelling.
Customers can refuel at Blackbushe Airport from 08:00 local time, 7 days per week, or at other times by prior arrangement. It offers convenient access to the capital being located just 40 miles from Central London on the borders of Hampshire, Surrey, and Berkshire. Blackbushe handles over 30,000 movements each year comprising a mix of training aircraft, general aviation and business aviation traffic.
BlueSky Business Aviation News | 14th June 2018 | Issue #467