World Fuel Services and RAF Museum celebrate relationship milestone
World Fuel Services celebrated a milestone moment in its partnership with London's RAF Museum last weekend, as the attraction was reopened by HRH Prince Edward to mark the Royal Air Force's centenary.
As the founding member of the RAF Museum's corporate membership programme and an RAF Museum centenary partner, World Fuel Services has directly supported the renovation of the London attraction. Its team was proud to attend the festivities, including a sponsor's event and corporate evening dinner event for key partners and associates.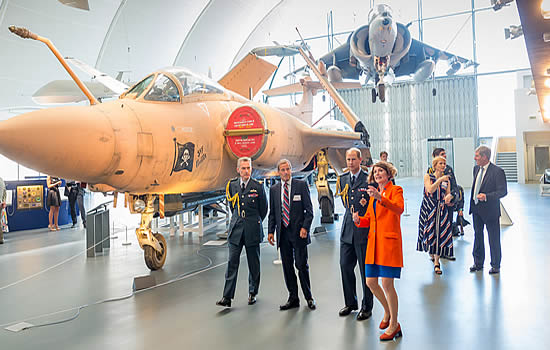 HRH Prince Edward reopened the RAF Museum in London to mark the Royal Air Force's centenary.
The RAF Museum is now open to the public and features three new permanent exhibitions:
Mark Amor, Vice President at World Fuel Services, said: "We are honoured to continue our partnership with the RAF Museum by helping celebrate its reopening to mark the RAF's centenary year. We have provided fuel to the RAF around the world for many years, including owning the exclusive rights to fuelling civilian aircraft at RAF Northolt in London since 2014. We see this partnership with the RAF Museum as the perfect complement to our commercial relationship with the wider RAF.
"We are dedicated to providing on-going support to the organisation which plays a key role in not only telling the story of the world's oldest independent air force, but also inspiring the next generation of aviation professionals and pioneers. We hope the RAF Museum continues going from strength to strength and call for everyone with an interest in the aviation industry and British history to visit these new exhibitions with family and friends to light the spark that so many people have experienced over the years."
Maggie Appleton MBE, CEO of the Royal Air Force Museum, said: "The royal reopening of the RAF Museum was a great success which was, in part, the result of the strong relationships we have with the broader aviation sector. We're therefore delighted to have the continued support of World Fuel Services as we enter into the next chapter of the RAF Museum story."