Oriens Aviation now supporting 12 PC-12s at its Authorised Pilatus Service Centre Oriens Aviation's exclusive British Isles Pilatus Centre, formally opened this February at London Biggin Hill Airport, reports a strong nine months supporting a greater number of customers for maintenance and technical support.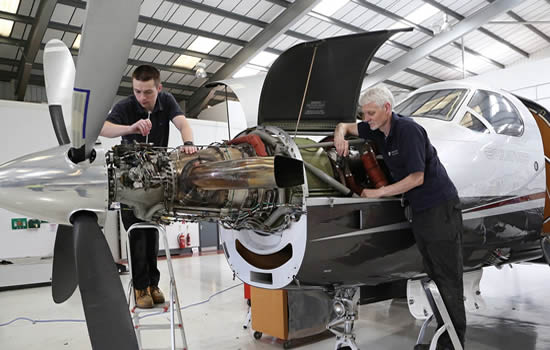 Flying Colours Corp completes installation of Ka-band on Gulfstream GV North America-based completions and MRO specialist Flying Colours Corp., has completed its first Ka-band installation on a Gulfstream GV airframe. Installation by the Flying Colours avionics team required the mounting of the radome, tail antenna and cabin hardware to bring powerful connectivity to the cabin and flight-deck. The work, part of a major refurbishment of the cabin interior, and revamp of the fuselage exterior, was completed in July at the Peterborough, ON. headquarters.
SR Technics expands its presence at Malta International with modern new hangar Leading MRO services provider, SR Technics, has signed a contract with Malta Enterprise and Malta Industrial Parks Limited to expand its aircraft maintenance facility in Malta, following last year's Memorandum of Understanding.
Flying Colours Corp installing its first Gogo L3 AVANCE in Challenger aircraftNorth America-based Flying Colours Corp. is installing Gogo AVANCE L3 air-to-ground connectivity systems in two Bombardier Challenger aircraft, a CL604 and CL605. The installation of the small form, fully integrated AVANCE L3 inflight connectivity and entertainment solution represents a first for Flying Colours which has already installed several of the AVANCE L5 systems.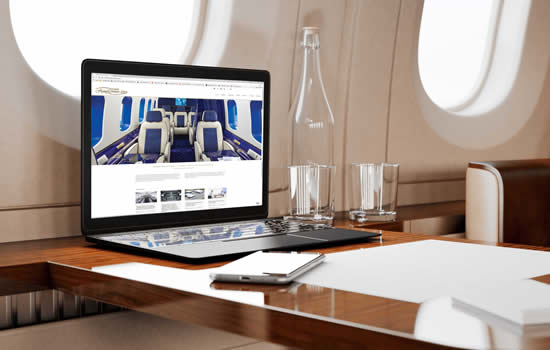 ExecuJet becomes provider of Honeywell TFE731 Major Maintenance in EMEAI ExecuJet is celebrating becoming the provider of major maintenance on Honeywell TFE731 engines in the EMEAI region (encompassing Europe, the Middle East, Africa and India), after ExecuJet's Johannesburg facility was awarded the rights by Honeywell International on 26 June 2018.
Daher begins warehousing and logistics management for support tooling in Rolls-Royce's UK jet engine production network Daher is assuming full warehousing responsibilities for approximately 28,000 handling tools used by Rolls-Royce in the manufacture of jet engines across the company's UK production network. Under terms of the agreement, Daher is centralizing and stocking the support tooling in a 30,000-sq.-meter warehouse at Doncaster in northwest England, as well as packaging and dispatching of these tools to manufacturing sites, followed by their return to storage.
ExecuJet to establish new MRO facility in Malaysia ExecuJet has signed a contract with Malaysian Airports at the Farnborough International Airshow to establish a new MRO facility within Subang Airport, Malaysia. ExecuJet is currently the largest MRO in Malaysia for business aircraft operating in Subang Airport from an existing hangar and office facility measuring approximately 64,000 square feet.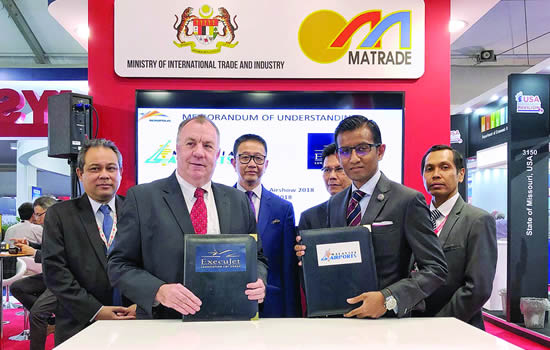 BAE Systems to create new jobs with Alabama expansion Alabama Governor Kay Ivey has welcomed plans by global defense contractor BAE Systems to launch a major expansion that will create a substantial number of jobs and add new capabilities at its operations in Huntsville.
Bombardier to introduce HUD and EVS option on Challenger 350 Bombardier will be offering Head-up Display and Enhanced Vision System as an option on its best-selling Challenger 350 business jets.
Pattonair to open Bangalore facility; selected for Access India Programme Global aerospace supply chain provider, Pattonair, has been selected as one of the first group of UK companies to participate in the Access India Programme (AIP).
StandardAero achieves industry's first EASA STC for Gulfstream GV/GV-SP JetWave Ka-band connectivity solution StandardAero has received European Aviation Safety Agency (EASA) approval for its Supplemental Type Certificate (STC) for installing Honeywell JetWave satellite communications systems and associated Ka-Band radomes on EASA-registered Gulfstream GV/GV-SP aircraft.
RUAG's PW206 overhaul success ensures readiness of Swiss Air Force helicopter fleet RUAG Aviation has successfully completed its first overhaul of a Pratt & Whitney Canada PW206 engine at its facility in Stans, Switzerland.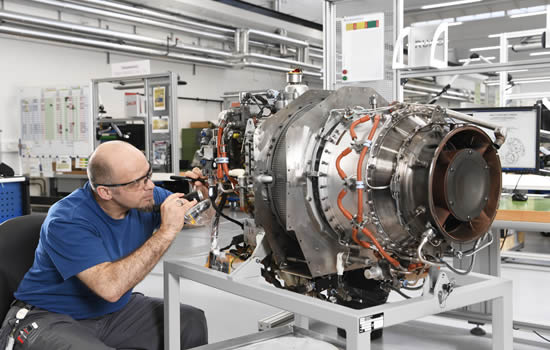 Textron Aviation adds line maintenance station at London Biggin Hill Airport London Biggin Hill has announced the arrival of Textron Aviation to the airport.
Pula acquires interest in Guernsey based aircraft maintenance and sales business, ASG Pula Aviation Ltd, has recently completed the acquisition of ASG Group Ltd, a company that owns 41,000 sq. ft of hangarage at Guernsey airport and a 25% share of the ASG operating companies.
Bombardier celebrates first anniversary of Tianjin Service Centre Bombardier Business Aircraft has marked the first anniversary of the state-of-the-art Tianjin Service Centre, inaugurated in collaboration with its partner, the Tianjin Airport Economic Area (TAEA), in April last year.
Airline Component Services: proud winners of the Queen's Award for Enterprise 2018 Norfolk, UK-headquartered structural component specialists, Airline Component Services (ACS), is one of this year's winners of the Queen's Award for Enterprise.