Bombardier chooses bizav over locos Bombardier has made the strategic decision to focus exclusively on business aviation and plans to accelerate its deleveraging through the sale of its rail business.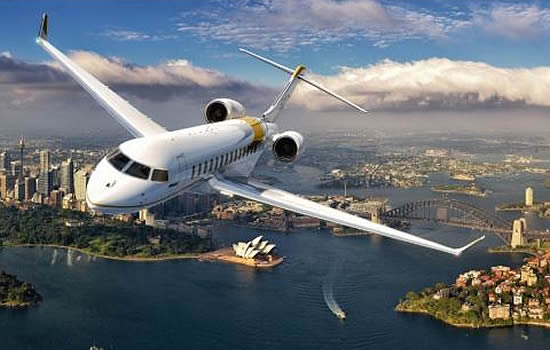 Gulfstream G700 makes first flight Gulfstream's all-new G700 has made its first flight, demonstrating the program's maturity and officially launching the rigorous flight-test program of the most spacious jet in the industry with the longest range at the fastest speeds.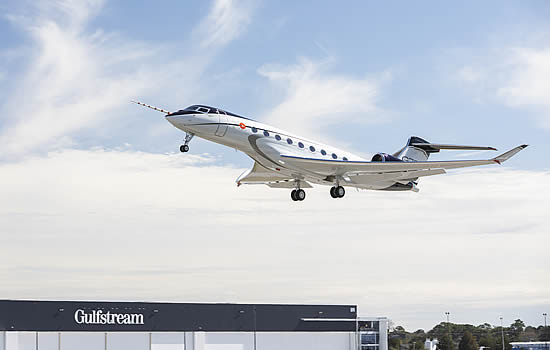 A truly Super Versatile jet! Pilatus has obtained full rough field certification for the PC-24 Super Versatile Jet. Following certification for operations on dry sand and gravel in 2018, a comprehensive post-certification test campaign was conducted throughout 2019 to certify the Super Versatile Jet for operation on unpaved runways and in differing conditions. With immediate effect, all PC-24s may now also be operated on wet and snow-covered unpaved runways.
Daher's 'finishing touch' on the 300th TBM 900-series Daher delivered its 300th TBM 900-series very fast turboprop aircraft and added a personalized paint scheme as a 'finishing touch' for its owners.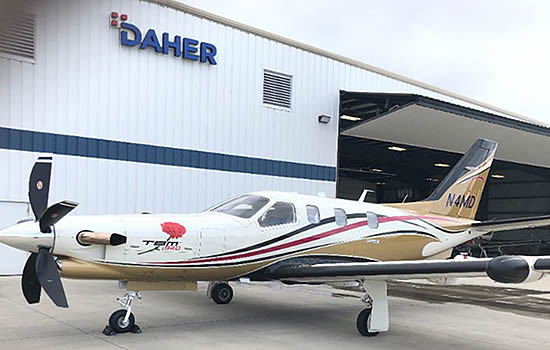 Spanish Air Force buys PC-21 training system including 24 aircraft The Spanish Air Force, Ejército del Aire, is the third European air force to opt for the Swiss-produced PC-21, the Next Generation Trainer. Pilatus has committed to delivering a total of 24 PC-21s to Spain. The single-engine turboprop trainer aircraft will replace the Casa C-101 jet trainers used since 1980.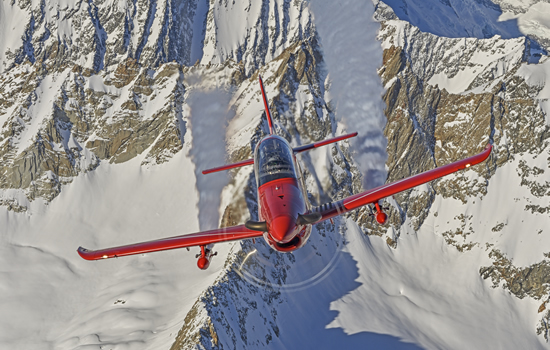 Phenom 300E becomes first single-pilot jet to reach Mach 0.80 Embraer's Phenom 300 series, the most successful business jet of the past decade, is made even better with enhancements in performance, comfort and technology.
Boeing and Embraer welcome Brazilian approval Boeing and Embraer have welcomed the unconditional approval of their strategic partnership by the Administrative Council for Economic Defense (CADE)'s General-Superintendence (SG) in Brazil.
Daher logs sales of 68 turboprop aircraft in 2019 from its TBM and Kodiak product lines Daher has announced the 2019 business results for its expanded turboprop-powered aircraft family, with the company logging sales of 48 TBMs in the TBM 910 and TBM 940 versions, along with 20 Kodiak 100 Series II airplanes.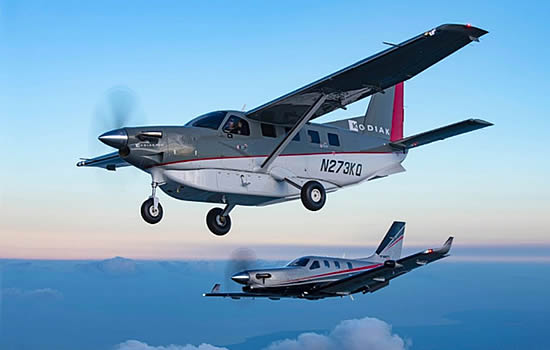 EmbraerX and Elroy Air to collaborate on unmanned air cargo EmbraerX, Embraer's disruptive business subsidiary, has announced its expansion into the commercial air cargo market, via a collaboration agreement with Elroy Air at CES 2020.
First Praetor 500 delivered to fleet launch customer, Flexjet Embraer has delivered its first Praetor 500 business jet to the market, just over one year after its announcement at the 2018 National Business Aviation Association's Business Aviation Convention and Exhibition (NBAA-BACE), alongside the Praetor 600, both of which have received triple certification from ANAC, the FAA, and EASA, becoming the most technologically advanced aircraft in the midsize and super-midsize categories.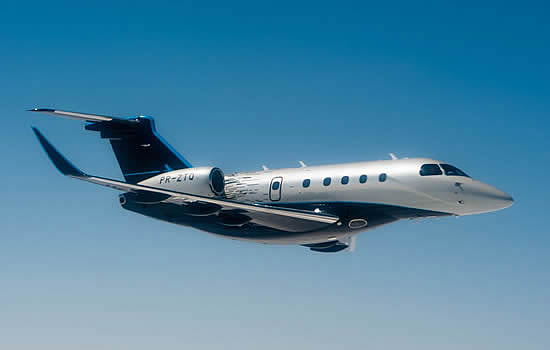 Global 5500 and 6500 awarded FAA certification The two latest additions to Bombardier's Global family, the Global 5500 and Global 6500 business jets, have received Federal Aviation Administration certification, achieving another important milestone following its successful entry-into-service in September and its impressive worldwide debut at NBAA-BACE in Las Vegas.
Gulfstream fleet clocks up more than 1 million miles on SAF Gulfstream announced this week that its Savannah-based fleet has flown more than 1 million nautical miles/1.85 million kilometers on sustainable aviation fuel (SAF).
Bombardier delivers first customer aircraft fueled with SAF to Latitude 33 Aviation Private jet charter, management, and sales company, Latitude 33 Aviation, has taken delivery of the first Bombardier customer aircraft to fly away on sustainable aviation fuel (SAF).
Aerion's supersonic bizjet gains speed with two major design and manufacture partners Aerion Supersonic, the leader in supersonic technology, has selected GKN Aerospace and Aernnova as suppliers to the AS2 supersonic business jet.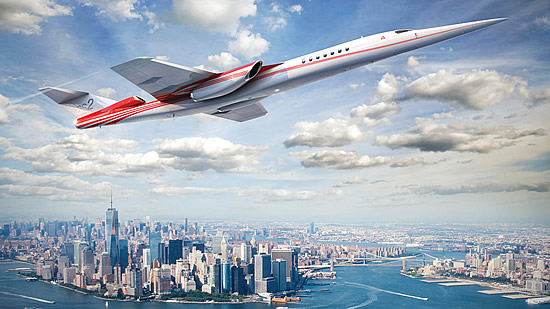 Gulfstream delivers 400th G650 Gulfstream has delivered the 400th aircraft from the record-breaking, ultralong-range Gulfstream G650 family to a customer. The extended-range Gulfstream G650ER will be based in the US.
Bombardier reinforces commitment to environment and receives first shipment of SAF in Montreal Bombardier has received an inaugural shipment of sustainable aviation fuel (SAF) at its Montreal facilities, further reinforcing the company's commitment to sustainable flying. This step is the first in the company's plan to secure long-term partnerships with fuel suppliers to deploy SAF to all of its facilities as worldwide supply becomes more readily avaIlable.
Pilatus delivers 1,700th PC-12 to Jetfly Aviation The key to the 1,700th PC-12 (serial number 1912) was presented to Jetfly Aviation's Managing Director Maxime Bouchard during a ceremony at Pilatus' head office in Stans, Switzerland this week.
Gulfstream begins G500 deliveries in Europe Gulfstream announced this week that the Gulfstream G500 has been delivered to its first European customer. An undisclosed Western-Europe-based charter operator took delivery of the aircraft in Savannah.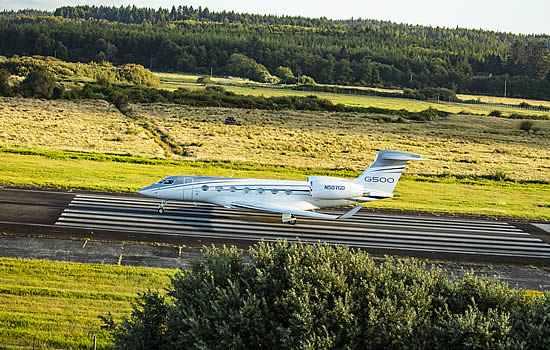 Global 7500 receives prestigious Ontario Professional Engineers Award Bombardier's multi-award winning Global 7500 business jet added another prestigious award to its growing list of accolades by becoming the 2019 recipient of the Ontario Professional Engineers Award (OPEA) for Engineering Project or Achievement.
Bye Aerospace and Oxis Energy collaborate to increase endurance of future Bye Aerospace eAircraft OXIS Energy and Bye Aerospace have begun a 12-month collaborative program announced in late July that seeks to achieve a 50% to 100% increase in flight time from a single charge on future Bye Aerospace eAircraft.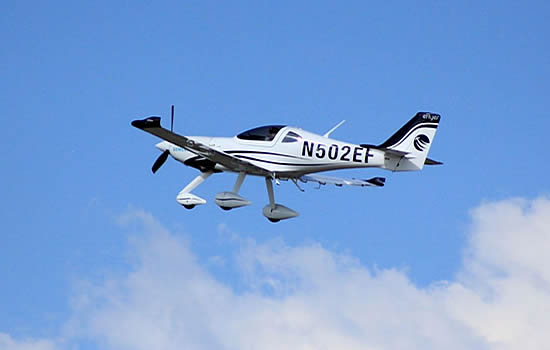 Cirrus emergency autoland revolutionizes passenger safety Cirrus Aircraft ushered in a new era of innovation this week with the introduction of Safe Return - a revolutionary emergency autoland system that enables passengers to land the Vision Jet with just the touch of a single button.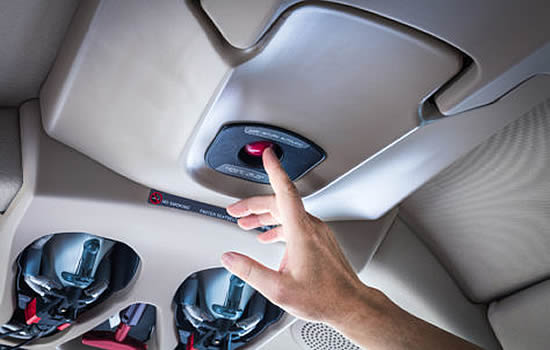 Gulfstream surpasses 25 G500 deliveries Gulfstream has delivered more than 25 Gulfstream G500TM aircraft to customers just over a year after the aircraft entered service. The aircraft's first delivery to a Brazilian customer has also taken place.
'The Next Big Thing': Pilatus Reveals the PC-12 NGX Pilatus has taken the wraps off the industry's most advanced and versatile single-engine turboprop - the PC-12 NGX.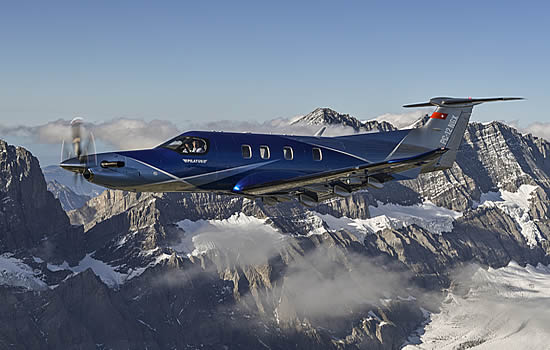 Gulfstream introduces all-new G700 Qatar Executive is launch customer for flagship business jet. Flexjet named as first North American fleet customer.

Bombardier Global 5500 achieves 5,900 nm range Bombardier's latest Global 5500 business jet now boasts an unprecedented range of 5,900 nautical miles at Mach 0.85, connecting more destinations than any other business aircraft in its segment.
Embraer signs $1.4bn deal with Praetor Fleet Launch Customer, Flexjet Embraer has announced a purchase agreement with Flexjet for a fleet of Embraer business jets, which includes the recently certified Praetor jets and the Phenom 300.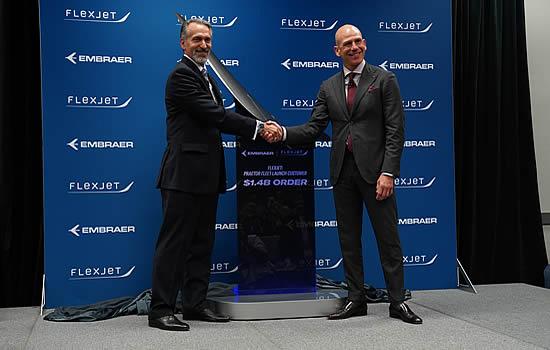 Daher completes acquisition of Quest Aircraft Company Daher Group has announced the acquisition completion of the Sandpoint, Idaho-based Quest Aircraft Company, marking a major milestone in the French corporation'sgrowth of its North American operations.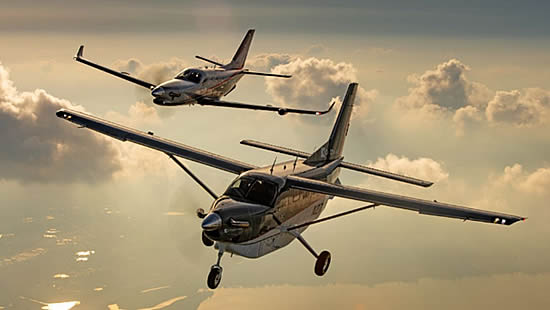 Momentum builds for Daher's TBM 940 very fast turboprop Daher's latest member in its family of TBM very fast turboprop aircraft - the TBM 940 - has logged 35 orders since its official launch in March of this year, with more than 20 of these autothrottle-equipped airplanes already delivered.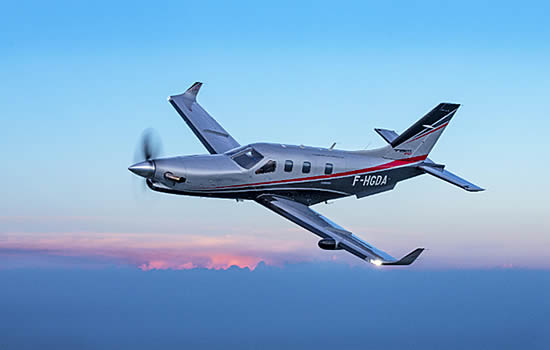 Three new bizjets achieve EASA certification ahead of NBAA-BACE Both Bombardier and Gulfstream celebrate European Aviation Safety Agency (EASA) certification for new aircraft this week, validating the requirement for operation in the European Union.
Daher congratulates TBM Owners and Pilots Association on a successful 2019 convention The TBM Owners and Pilots Association's (TBMOPA) 2019 convention brought together TBM owners and their Daher-built very fast turboprop aircraft from around the world, underscoring this annual gathering's importance as one of the largest such meetings for a turbine aircraft type.
Embraer Praetor 500 receives EASA and FAA approval Embraer's new Praetor 500 midsize business jet has been granted its Type Certificate by the European Union Aviation Safety Agency and the Federal Aviation Administration.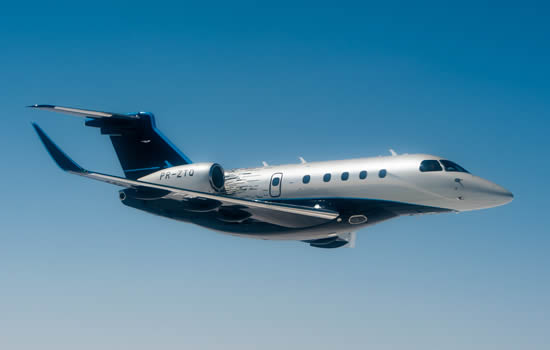 Bombardier celebrates Global 6500 entry-into-service Hard on the heels of Transport Canada certification of both the Global 5500 and 6500 awarded on September 24th, Bombardier is celebrating the entry-into-service of the latest addition to its Global family, the Global 6500 jet.
USAF Globals reach 100,000-flight-hour service milestone Bombardier's Global aircraft platform has achieved a significant in-service milestone with the US Air Force in special-mission configuration. A fleet of four modified Global aircraft has collectively flown an impressive 100,000 hours since entering service.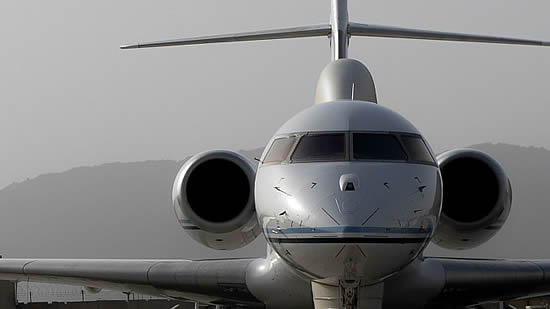 Global 5500 and 6500 jets awarded Transport Canada Certification Bombardier's two latest additions to the Global family - the Global 5500 and Global 6500 business jets - have been awarded Transport Canada Type Certification, paving the way for entry-into-service this year.
Cessna Citation Longitude receives FAA Type Certification Textron Aviation's Cessna Citation Longitude has achieved Type Certification by the Federal Aviation Administration, paving the way for customer deliveries.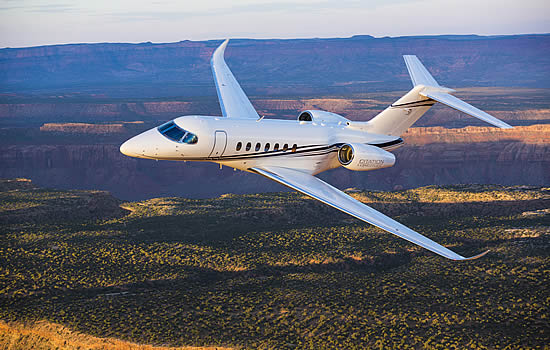 Bombardier delivers first of three Global 6000s to Luftwaffe fleet Bombardier has delivered the first of three Global 6000 business jets destined for use by the Luftwaffe, Germany's air force.The Luftwaffe, a longtime Bombardier aircraft operator, will use the Global 6000 business jets to fulfill political and parliamentary transport requirements.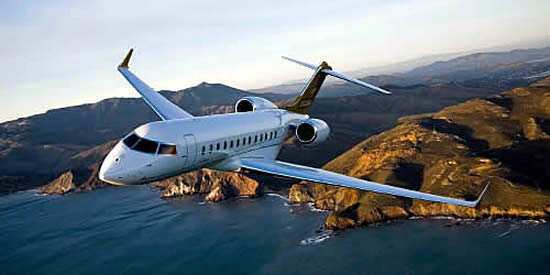 Chinese type certification for HondaJet Elite The HondaJet Elite has received type certification from the Civil Aviation Administration of China (CAAC), demonstrating that the aircraft meets the safety standards set by the organization. Deliveries in the region will begin this year.
Manned Electric Aircraft - IDTechEx says Walk Before You Run In the new IDTechEx report, 'Manned Electric Aircraft 2020-2030' the analyst praises manufacturers such as Bye Aerospace for "walking before they try to run".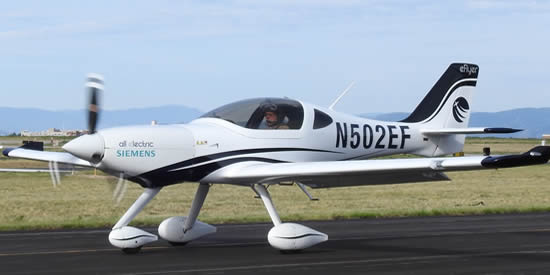 OXIS Energy to develop proof-of-concept lightweight lithium cells for Bye Aerospace The OXIS Energy Lithium-Sulfur battery cell technology offers significant benefits to aviation and as a result, it is collaborating with Bye Aerospace of Denver, Colorado to produce a common Li-S advanced battery cell for the high voltage battery pack system to be considered for Bye's future electric aircraft.