ATR sees demand for 3,000 new turboprops valued at over $80bn over the next 20 years ATR has published its new Market Forecast (2018-2037), where it estimates a market for 3,020 turboprop aircraft in the next 20 years.
Australian boutique travel group is Embraer's first Phenom 300E customer in Asia Pacific Embraer has delivered its first Phenom 300E in Asia Pacific to Northern Escape Collection.The new light jet model, which is an enhancement of the Phenom 300, offers Northern Escape Collection an elegant solution to provide their guests access to its collection of private lodges in Queensland including Orpheus Island Lodge, Daintree Ecolodge and Mt Mulligan Lodge.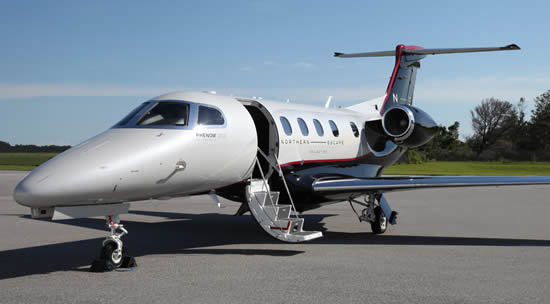 First landing on unpaved runway for PC-24 The Pilatus PC-24 Super Versatile Jet has made its first landing on an unpaved runway.watch the video
First ACJ320neo enters final assembly The first ACJ320neo has entered final assembly in Hamburg, marking the start of a new era in Airbus corporate jets.
Sparfell & Partners named sales representative for Aerion's supersonic business jet Aerion, the leader in supersonic flight, has named Geneva, Switzerland's Sparfell & Partners (a Sparfell Aviation Group company) an Aerion Sales Consultant for the sale of the AS2 supersonic business jet.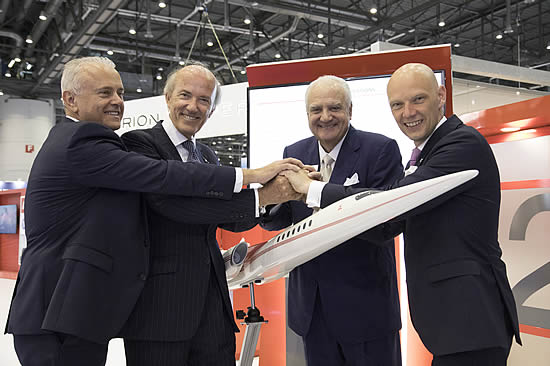 Bose introduces the new Proflight Aviation Headset Bose, a leader in premium aviation headsets, has introduced its new active noise cancelling headset for the flight deck, the Bose ProFlight Aviation Headset.
Honda unveils the HondaJet Elite EBACE 2018 saw the unveiling of Honda Aircraft Company's new upgraded aircraft, the 'HondaJet Elite'. The state-of-the-art, environmentally responsible aircraft features increased range, updated avionics suite and enhanced cabin amenities.
Gulfstream G500 on final approach for type certification Gulfstream Aerospace Corp's G500 is nearing completion of function and reliability (F&R) testing, which will mark the end of the flying required for U.S. Federal Aviation Administration (FAA) type certification later this summer.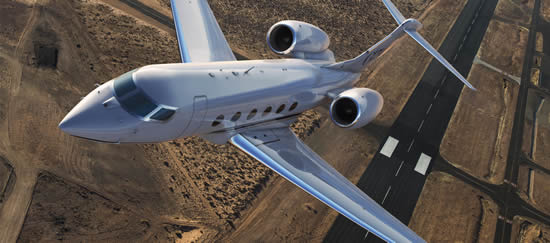 Pilatus extends PC-12 maintenance intervals and delivers significantly reduced operating costs Pilatus engineers recently developed and certified a new PC-12 Master Maintenance Plan to give greater flexibility with regard to the timing of required inspections and maintenance.
Daher introduces new services for its TBM aircraft family in commercial operations Daher introduced several new services at EBACE that underscore the TBM very fast turboprop family's growing use in commercial flights.
Legacy 450 sets transatlantic speed record between US and Europe Embraer's Legacy 450 medium cabin business jet set a new speed record on a recent flight between Portland, Maine in the United States and Farnborough in the United Kingdom, according to the U.S. National Aeronautic Association (NAA).
Bombardier elevates the name of its flagship business jet to the Global 7500 Bombardier's class-defining business jet, which is surpassing commitments during flight testing, will now be known as the Global 7500 aircraft, in concert with the recent unveiling of the new Global 5500 and Global 6500 aircraft.
JetSuite becomes launch customer for Zunum hybrid aircraft In what will likely be a further disruption of the aviation industry, JetSuite has committed to the hybrid-to-electric Zunum Aero 12-seat aircraft with a potential 100-aircraft order becoming the innovative aircraft's launch customer.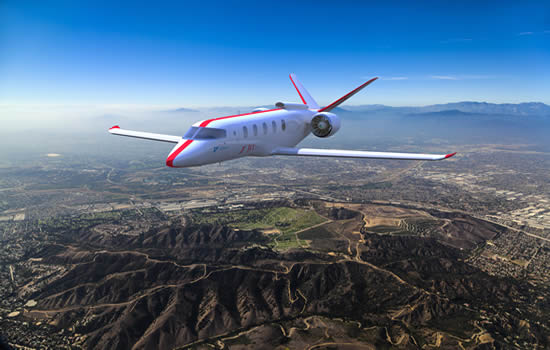 Former Nestle Chairman takes delivery of PC-24 Peter Brabeck-Letmathe, former Chairman and CEO of the Nestle Group, accepted the keys to his PC-24 Super Versatile Jet, serial number 104, from Pilatus Chairman Oscar J. Schwenk at a handover ceremony in Stans, Switzerland.