Air Partner continues to strengthen global presence with new offices in Houston and Singapore Air Partner plc has announced the opening of two new offices in Houston, Texas, US, and Singapore, as it further extends its global reach to serve the needs of its international customer base.
Bestfly becomes first business aviation company in Angola to achieve IS-BAO Stage 2 Bestfly, the Angola-based aviation services company, has achieved IS-BAO, International Standard for Business Aviation Operators, Stage 2.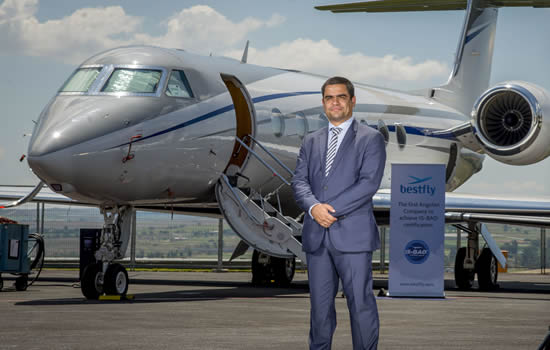 Air Charter Service invests further in California Leading aircraft charter specialist, Air Charter Service, has invested further in its Los Angeles operation as it continues to expand its presence in California.
Jet Aviation adds second BBJ1 to its EMEA charter fleet Jet Aviation has added a second Boeing B737 (BBJ1) to its fleet of managed aircraft in Europe, the Middle East and Africa (EMEA), effective immediately. The BBJ1 is based in Western Europe and is available for charter service.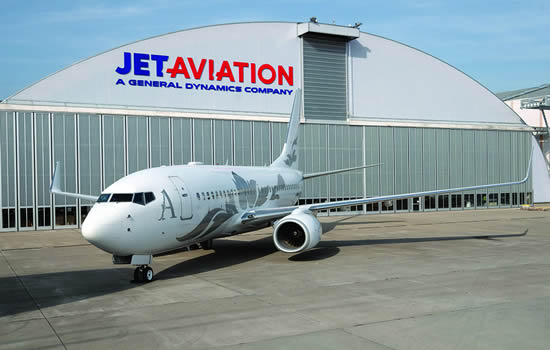 VistaJet partners with Scuderia Ferrari Mission Winnow for 2019 F1 Championship VistaJet has announced its partnership with the Scuderia Ferrari Mission Winnow team as its Official Supplier of private jet travel.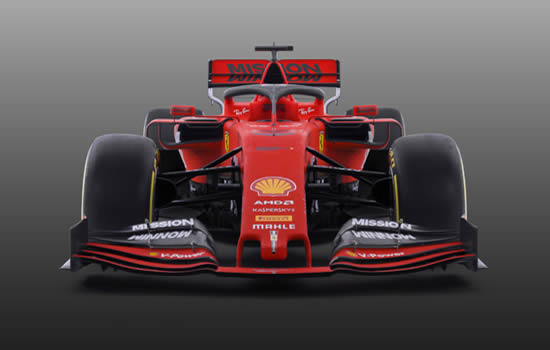 Meridian adds Challenger 650 to fleet Meridian Air Charter has announced the addition of a new 2018 Challenger 650 (N562RT) business jet to its ever-growing managed fleet. The aircraft is based in West Palm Beach, FL, and conveniently serves our South Florida and New York City-area customers.
Jet Exchange goes global with worldwide AOC Charter operator Jet Exchange has been granted a worldwide AOC, allowing it to operate globally. The Luton Airport-based business will use the AOC primarily for operations with its Challenger 604, which without refuelling can travel from the UK to New York and Kazakhstan.
Latitude 33 Aviation expands fleet with two Citation Latitudes California-based charter, management and sales company, Latitude 33 Aviation, has taken delivery of two factory-new Cessna Citation Latitude jets, further expanding its fleet of charter aircraft.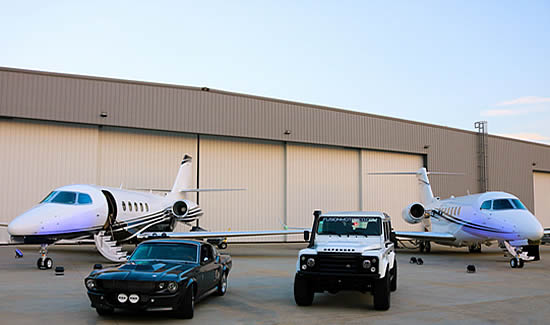 FAI welcomes seventh Global Express German Special Mission and VIP-Charter Operator FAI rent-a-jet AG has welcomed its seventh Bombardier Global Express, MSN 9016, to the company's 26-strong fleet.
VistaJet celebrates 15th anniversary with global expansion VistaJet has announced another record year in 2018, with new Members and number of flights up prominently year on year. As it enters its 15th year, Malta based VistaJet made significant progress on its core strategic priorities, increasing market share worldwide.
Pula Aviation widens its business aviation portfolio Guernsey based Pula Aviation Ltd, parent company of Centreline AV Ltd, is expanding its footprint in business aviation with the announcement that it has acquired 100% of the share capital of ASG Ltd.
Air Partner comments on Group Charter activity in 2018 and trends for 2019
Jon Cavalli, Trading Manager for Group Charter UK at Air Partner, takes a look back at the group's Commercial Jets activity in 2018 and comments on what he expects to see in 2019.
SONAS Aviation gears up for Irish AOC SONAS Aviation, the new Shannon-based aircraft charter and management company, founded late last year by Graham Williamson, former CEO of TAG Aviation Europe, is just weeks away from acquiring its Irish AOC.
Acropolis Aviation accepts world's first Airbus ACJ320neo Acropolis Aviation, the UK VVIP charter operator, proudly accepted the keys to the world's first Airbus ACJ320neo yesterday (16th January) at Airbus's Toulouse, France HQ.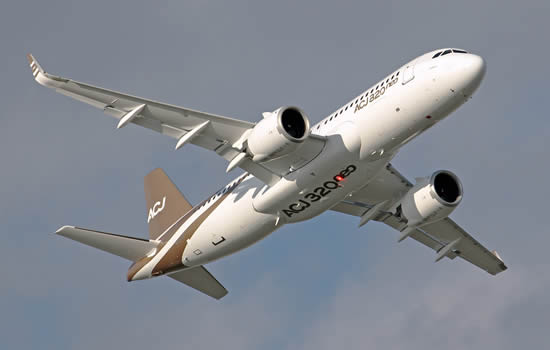 GlobeAir releases Amazon Alexa skill Austrian private jet company GlobeAir is becoming the first bizjet company to release an Amazon Alexa skill for immediate private jet bookings.
Western Aircraft becomes first in US to add Pilatus PC-24 to its charter Western Aircraft, a Greenwich AeroGroup company, has added a Pilatus PC-24 Super Versatile Jet to WestAir Charter's Federal Aviation Regulations (14 CFR) Part 135 Air Carrier Certificate.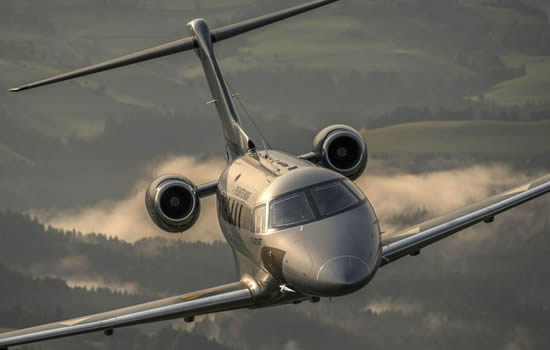 Apronjet becomes first charter broker in Turkey to earn ARGUS Registered Broker rating ARGUS International has announced Apronjet as the first charter broker in Turkey to earn the ARGUS Registered Charter Broker Rating. Apronjet is a nationwide leader and one of the main regional brokers in on-demand private jet charters.
Krimson gains one of first new Ethiopian CAA aviation licenses Krimson, the Ethiopia-based aviation services company has attained one of the first new business aviation licenses being issued by the Ethiopian Civil Aviation Authority (ECAA).
ExecuJet looks forward to upturn in Middle East activity in 2019 ExecuJet, part of the Luxaviation Group, has been marking its seventh attendance as an exhibitor at the Middle East and North Africa Business Aviation Association (MEBAA) Show at Dubai Al Maktoum International Airport.
Baker Aviation breaks ground on new facility to centralize operations in Fort Worth Baker Aviation, a full-service aircraft maintenance, management and charter company in North Texas, has announced construction is now underway for two new hangars with immediate plans to centralize and expand operations at the Fort Worth, Meacham International Airport (KFTW).
Guardian Flight strengthens its rural air medical outreach in Alaska, Hawaii and Utah Guardian Flight has recently strengthened the reach and focus of its air medical transport footprints in Alaska, Hawaii, and Utah with additional dedicated and medically equipped fixed wing aircraft.
Vertis Aviation adds second BBJ to elite portfolio of long-range aircraft Switzerland's Vertis Aviation, the boutique long-range charter specialist, has added a second Boeing Business Jet to its growing portfolio of large-jets available for international charter. The latest addition to the roster, operated by Bermuda-headquartered Longtail Aviation, will be exclusively marketed to the international sector by the Vertis team.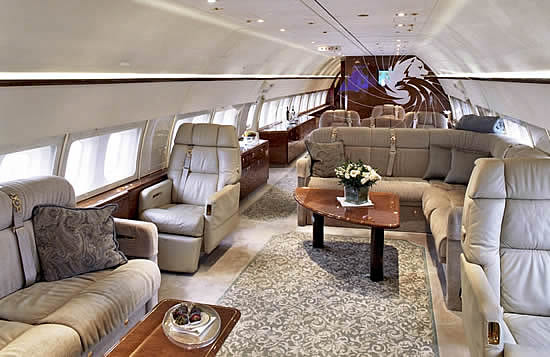 Oriens Aviation and London Biggin Hill Airport welcome Jetfly's new Pilatus PC-24 Oriens Aviation, the exclusive British Isles Pilatus Centre and sales distributor for the PC-12, and London Biggin Hill Airport welcomed Jetfly's Pilatus PC-24 (LX-PCA) on 18th October, as part of the fractional operator's European tour.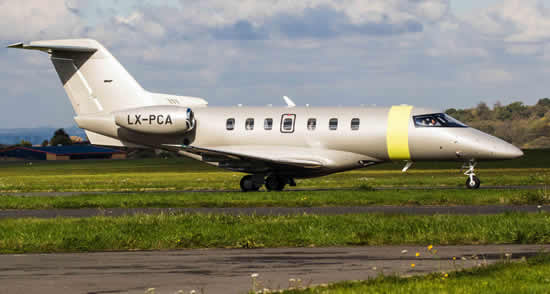 Silver Air celebrates a decade in private jet management and operations Santa Barbara's Silver Air is celebrating 10-years of private jet management and operations this year. Starting from a single jet and two pilots a decade ago, the company now manages an international fleet with bases across the United States.
Comlux celebrates first anniversary with Crystal Aircruises' VIP B777 Comlux is marking the first anniversary of successful operation and charter of the beautiful B777-200LR VIP of Crystal AirCruises 'Crystal Skye'.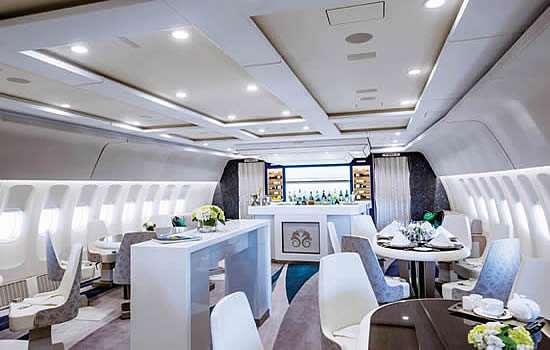 FAI welcomes first Challenger 850 and bids farewell to last Learjet 55 German Special Mission Operator FAI rent-a-jet AG, continues its fleet expansion with the addition of its first Bombardier Challenger 850.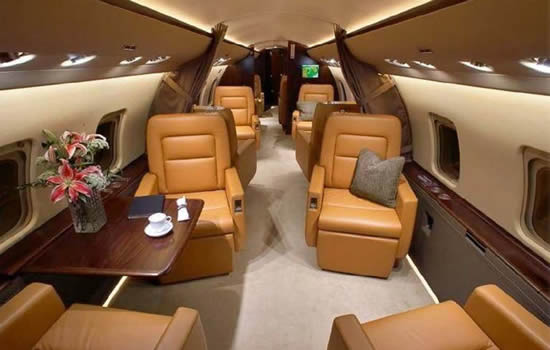 ExecuJet celebrates the arrival of Africa's first Pilatus PC-24 ExecuJet, part of the Luxaviation Group, is celebrating the arrival of Africa's first Pilatus PC-24 Super Versatile Jet at its Cape Town FBO in South Africa.