HRH The Prince of Wales officially opens L3Harris Technologies' new $100m Pilot Training Center On Wednesday (10th June), His Royal Highness The Prince of Wales, accompanied by the UK Aviation Minister and leading figures from the UK aviation industry, officially marked the opening of L3Harris Technologies' new $100m London Training Center for commercial airline pilots.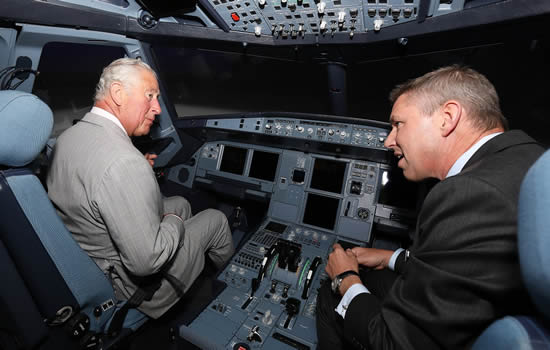 FlightSafety International is now offering Enhanced Flight Vision System Touchdown and Rollout training for Gulfstream G280, G450, G500, G550, G600 and G650 aircraft.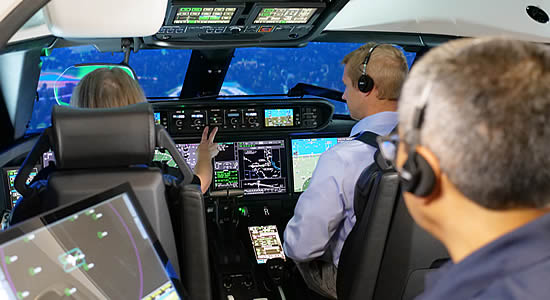 Ground handling training goes virtual When it comes to strictly regulated activities such as aircraft ground handling, virtual reality (VR) stands out as a perfect technology to train operators in a nearly real-life environment.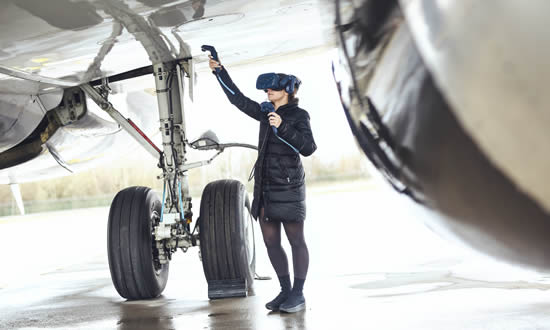 Orange Coast College aviation students awarded pilot scholarships from Clay Lacy Aviation Katie Kirby and Joseph White are the two newest recipients of the Clay Lacy Pilot Scholarship at Orange Coast College (OCC) in Costa Mesa, Calif.
Recently retired Gulfstream SVP, Dan Nale, endows engineering scholarship Gulfstream has announced the establishment of the Dan D. Nale Engineering Scholarship Endowment Fund for students who are pursuing degrees in civil, mechanical, electrical or aerospace engineering.
FlightSafety introduces specialised G650 steep approach course for London City FlightSafety International will offer a specialised London City airport steep approach operations training program for Gulfstream G650 pilots.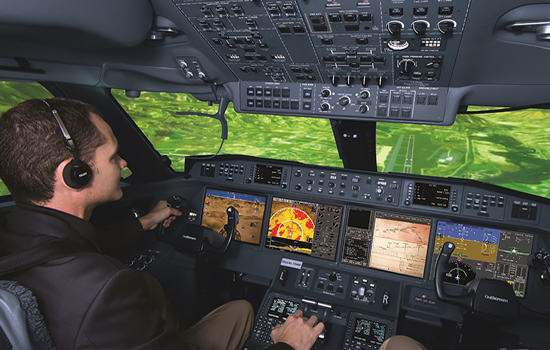 FlightSafety Master Technician program now includes Cabin Systems FlightSafety International is expanding its industry leading Master Technician program to include Cabin Systems. The new Master Technician Cabin Systems program offers a progressive curriculum that follows a five step process. It is designed to provide technicians with the skills required to service and maintain the cabin of the aircraft they support at the highest level.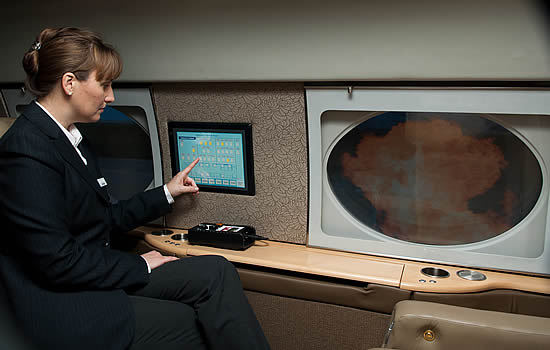 BAA Training and Avion Express announce MPL training Leading independent European aviation training centre, BAA Training, has announced the launch of a Multi-pilot licence (MPL) training program by partnering with Avion Express, the world's largest narrow-body ACMI operator.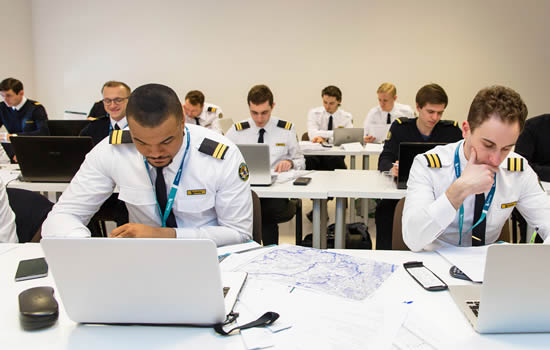 Joint venture provides training for Textron aircraft FlightSafety International and TRU Simulation + Training - a Textron Inc. company - have formed a new company called FlightSafety Textron Aviation Training. The new joint venture will provide training services for Textron Aviation's broad product line of business and general aviation aircraft.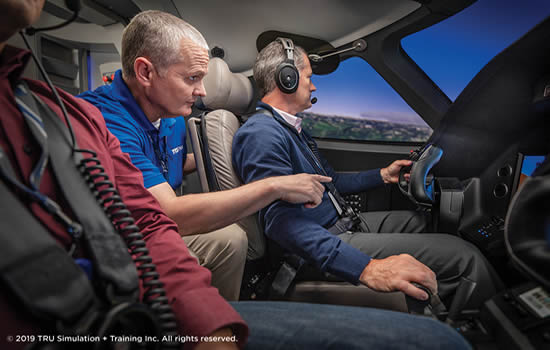 Dassault Falcon selects GLOBALJET as authorized training provider Avon, CT-headquartered GLOBALJET Services, Inc., a leader in on-location aviation aircraft, avionics, safety, and professional development training, has been selected as a factory authorized maintenance training provider from Dassault Aviation, producers of the extraordinary Falcon line of business aircraft.
Boeing partners with Embry-Riddle to offer pilot and technician scholarships Boeing has announced plans to establish a $3m permanent endowment for scholarships at Embry-Riddle Aeronautical University to assist students interested in pursuing a pilot's license and certificates in aviation maintenance.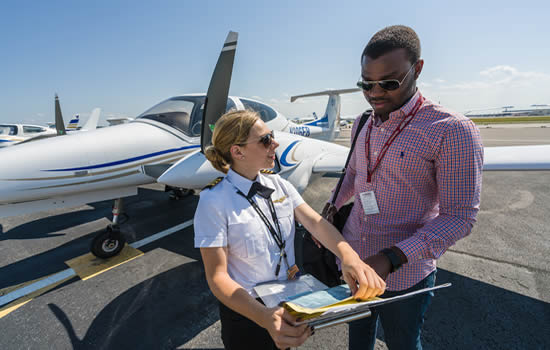 FlightSafety teams with Praxis to deliver UAS flight training FlightSafety International will deliver Unmanned Aircraft Systems practical flight training in conjunction with Praxis Aerospace Concepts, Inc.
London Biggin Hill Airport launches Unite to Inspire initiative London Biggin Hill Airport is launching Unite to Inspire, a new initiative encouraging young people to study STEM subjects, preparing them to become the next generation of aviation professionals.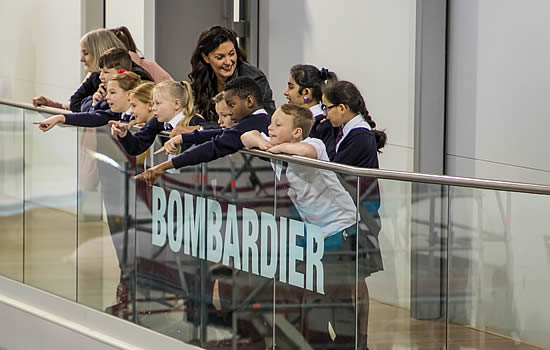 ASTM International announces certification program for business jet cabin crews ASTM International, headquartered at West Conshohocken, PA., has announced a new certification program for business jet cabin crews from the organization's affiliate, the National Center for Aerospace and Transportation Technologies (NCATT).
London Biggin Hill kicks off outreach year with five new apprentices London Biggin Hill is beginning 2019 by welcoming five new apprentices, demonstrating its commitment to local education, outreach and training that will support ongoing growth at the airport.
Etihad Aviation is first UAE training organisation to be EASA certified Etihad Aviation Training, part of Etihad Aviation Group has accomplished the significant milestone of becoming the first full European Aviation Safety Agency (EASA) Approved Training Organisation (ATO) for the transport category in the United Arab Emirates.
Oriens Aviation moves into Pilatus flight training Oriens Aviation, the exclusive UK Pilatus Service Centre and sales distributor of the PC-12, is widening its expertise at its London Biggin Hill facilities to start offering EASA Pilatus PC-12 SET class rating pilot training from January 2019.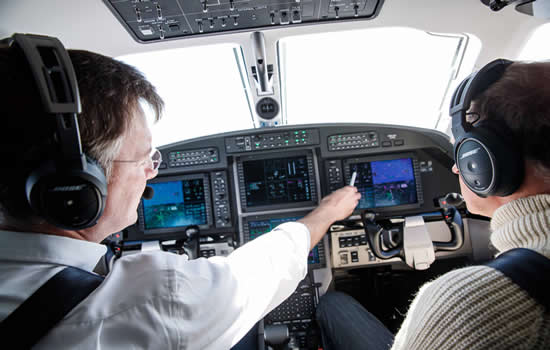 Airbus inaugurates first Level D-qualified A320neo simulator in the Americas Airbus' newest training center in Denver is now home to the first A320neo full flight simulator (FFS) in the Americas.
FlightSafety launches new interactive training system - MissionFit FlightSafety International has launched MissionFit, a new advanced technology interactive training system designed to meet the on-site and remote training requirements of government and military agencies and commercial aircraft operators.
FedEx commits $2.5m for aviation scholarships FedEx Express, a subsidiary of FedEx Corp, the world's largest express transportation company, has announced it is providing $2.5m to create scholarships dedicated to easing the financial burden of rising education costs on the next generation of aviation professionals.
Private jet charter company awards inaugural pilot scholarship Orlando's Kimberly Novak receives the first-ever Pilot Training Scholarship from Stratos Jet Charters.
ICAO and CAAi deliver fully funded Aerodrome Certification training in South East Asia In collaboration with the International Civil Aviation Organization (ICAO), CAA International (CAAi), part of the UK CAA International Group, has delivered an Aerodrome Certification course for 26 delegates from 11 countries in South East Asia. The training was funded by CAAi under its Social Enterprise activity.