---

Flying Colours Corp extends paint shop footprint as work begins on long-term agreement with MHI Canada

Flying Colours Corp., the North American MRO business has commenced work fulfilling a long-term paint contract with MHI Canada Aerospace Inc., (MHICA), which is anticipated to last five years.

Under the terms of the partnership, Flying Colours will paint over 40 center fuselage sections of the Bombardier Global 5000/6000 aircraft at the company's Peterborough, Ontario facility each year. MHICA, a group company of Mitsubishi Heavy Industries, is a Tier 1 manufacturer of major aircraft structures and assemblies based in Mississauga, Ontario.

To support the agreement, Flying Colours has invested over $1m constructing a new, dedicated paint facility specifically designed for the project. The separate unit adds over 4,000 square feet to the existing paint shop footprint, and features two separate paint bays designed to allow easy access and egress of the fuselage component.

---

---

StandardAero to cease operations at LAX repair station by end of March

StandardAero has announced that it will cease operations at the company's LAX-based Business Aviation repair station by the end of March, 2018.

However, the company will continue to maintain mobile service capabilities in the Southern California region.

After fully evaluating its ability to sustain LAX operations and in consultation with StandardAero's owners, investors and board of directors, the company reached a difficult decision to cease operations at the facility. Primary reasons driving the decision included severe and unexpected reductions in the number of worldwide TFE731 engine events and the associated revenue and volume declines which have accompanied this trend along with multiple, unsuccessful attempts to secure a long-term lease for the LAX facility.

---

---

---

NBAA thanks FAA Administrator Huerta for distinguished public service and welcomes Dan Elwell

National Business Aviation Association President and CEO Ed Bolen has commended Michael Huerta, administrator of the Federal Aviation Administration, for his dedicated service and commitment to aviation safety.

Huerta stepped down on January 6th at the end of his five-year term.

Outgoing FAA Administrator Michael Huerta.

"Michael has been a steady leader at the FAA during a time of significant change," Bolen said. "Under his stewardship, the agency has shown demonstrable progress in implementing NextGen, to ensure America's continued global leadership in aviation; in rewriting Part 23 certification standards to ensure the safety and affordability of small aircraft; and laying the groundwork for the safe introduction of unmanned aircraft into the National Airspace System. These important priorities will be among the pillars of his legacy."

---

---

West Star Aviation finalizes Embraer Service Center agreement at Chattanooga MRO

West Star Aviation announces that it has finalized its Service Center agreement with Embraer Executive Jets at its full-service state-of-the-art maintenance facility in Chattanooga, TN at KCHA.

The agreement is for Embraer Base Maintenance on Phenom 100/300, Legacy 450/500 and Legacy 600/650. The Chattanooga facility will offer interior refurbishment, avionics, avionics installation and repair, inspections, part services, and engine inspections.

"We are thrilled to be able to accept Embraer customers at all three of our full-service facilities at ALN, GJT, and CHA," said Bob O'Leary, Embraer Business Development Manager, West Star Aviation. "We are dedicated to the continuous growth of our Embraer capabilities and proud to offer complete maintenance on Embraer Phenom and Legacy models."

---

---

GAMA commends Congressional legislation promoting women in aviation

The General Aviation Manufacturers Association has commended two recent pieces of federal legislation, written to help more women pursue careers in aviation and further opportunities for those already working in the industry.

The Promoting Women in the Aviation Workforce Act of 2017, introduced in the U.S. Senate by Senators Susan Collins (R-ME) and Tammy Duckworth (D-IL), and in the U.S. House by Representatives Elizabeth Esty (D-CT) and Jackie Walorski (R-IN), urges the aviation industry to "explore all opportunities, including pilot training, science, technology, engineering and mathematics (STEM) education, and mentorship programs, to encourage and support female students and aviators to pursue a career in aviation."

---

---

Two industry veterans join expanded NBAA regional rep program

New Mid-Atlantic region added.

The National Business Aviation Association has announced that Paige Kroner and Brittany Davies have been named Mid-Atlantic and Northeast regional representatives, respectively.

The move marks an expansion of NBAA's regional program to seven regions.

Northeast regional representative Brittany Davies

"Our members often tell us they greatly value the presence of an NBAA regional advocate when decisions, regulations, airport concerns and other issues need to be addressed at local, state and regional levels," said NBAA President and CEO Ed Bolen.

Mid-Atlantic regional representative Paige Kroner

"With the addition of the Mid-Atlantic region, NBAA's regional representation program will allow for an even more robust level of business aviation advocacy for our members."

---

---

---

Michael Lawrence

Premier Jet Center in Minneapolis, MN welcomes Michael Lawrence as Operations Manager.

Lawrence started in the aviation industry 20 years ago, with the majority of that time spent in a managerial role. His recent position as General Manager at Key Air allowed him to oversee all aspects of the full-service FBO, therefore providing him the knowledge, understanding, and experience needed for continuing the growth and success at Premier Jet Center.

Michael earned his B.A. in Business Administration with a Minor in Airway Science/Aviation from Winona State University and holds a private pilot's license.

---

---

Bombardier to debut Global 7000 mock-up at Jetex Private Terminal, Dubai

Bombardier and Jetex have announced that the Global 7000 mock-up will be on display at the flagship Jetex Private Terminal in Dubai from January 11 to February 3, 2018.

The full-size mock-up will make its debut in the Middle East to showcase the aircraft's unparalleled spaciousness, luxury, and comfort, as well as its high-end, fully equipped kitchen.

---

---

RUAG chosen by AeroGeo for complex onsite aircraft repair events in Siberia

Switzerland's RUAG Aviation successfully resolved three separate and highly exacting aircraft maintenance and repair events on behalf of Russian operator AeroGeo Airlines, during 2017.

RUAG readies AeroGeo aircraft for ferry flight in sub-zero temperatures

The aircraft, two Pilatus PC-12 and one Cessna Caravan 208, remained at a standstill in Siberia and were in need of significant repair services before they could fly again. RUAG sent three teams to Siberia over the course of 2017, with each of the projects lasting for several weeks.

---

---

---

---

---

The sights and sounds of Oshkosh 2017

Daher has released a new video that recaps the TBM community's strong presence at last Summer's EAA AirVenture Oshkosh in Wisconsin with 60 TBM very fast turboprop aircraft participating at the annual U.S. fly-in and a special salute to the company's aviation heritage.

Daher's two latest in-production aircraft - the TBM 910 and TBM 930 - joined the diverse line-up of airplanes during the July event and the video includes interviews with TBM customers, plus comments from Daher's Chairman, Patrick Daher.

---

---

---

---

Luxaviation UK, part of the Luxaviation Group, is welcoming a Cessna Citation XLS+ to its fleet.

The XLS+ (G-GAAL) is available for charter services and will be based at London Luton Airport with a full-time crew, allowing for last-minute charter requests. The aircraft is the most recently refurbished XLS+ on the current charter market and has been delivered straight from theCessna Citation Service centre in Doncaster.

The Citation XLS+ can accommodate up to eight passengers including two crew, with a maximum flying distance of 1,850 nm (3,430 km). In addition to the Citation XLS+ and the recently added Challenger 604, the Luxaviation UK fleet also includes five Embraer Legacy 600/650s, four Cessna Citation Excels and more. The Citation XLS+ will become part of the Luxaviation Group's global fleet of more than 270 aircraft.

---

---

British European Aviation named newest Piper Dealer

Piper Aircraft has announced the appointment of British European Aviation Group (BEA) as the exclusive Dealer for the United Kingdom, Ireland and the Channel Islands.

These territories represent some of the most active private aviation markets in Europe.

"As the exclusive leasehold owners of Wycombe Air Park, BEA has 24/365 access to a General Aviation friendly airfield which is ideally situated near London," said BEA CEO, Sean Brown. "Additionally, with BEA's experience as a current owner of six Piper Aircraft, the company is uniquely positioned to guide, support and provide a unique aeroplane management package which will assist current and future Piper customers through the selection, purchasing and operating phases of Piper Aircraft ownership."

read more, plus: M500 and M350 Certified with Garmin G1000 NXi

---

---

Bombardier has secured a firm order for six of its Belfast-built CRJ900 aircraft, with an option for a further six.

The order, from an unidentified customer, could be worth up to £427m. Bombardier's Belfast facility is responsible for a large part of the fuselage, together with nacelles and wing components.

Bombardier is currently locked in a trade tussle with Boeing, which claims it's selling its C-Series aircraft at below cost, and has been unfairly subsidised by Canada's regional government in Quebec. In December, the US Department of Commerce imposed trade duties of 292% on sales to America. The US International Trade Commission will now examine whether the subsidies caused injury to Boeing and is expected to make a final decision in February, which would trigger the duties.

---

---

TAG Farnborough Airport launches Flying Scholarship 2018

TAG Farnborough Airport has launched the TAG Flying Scholarship 2018.

Each year, under the auspices of the Honourable Company of Air Pilots' scholarship programme, TAG Farnborough Airport grants one young person a scholarship with the aim of supporting individuals who might otherwise not have the necessary resources to gain flying experience and ultimately achieve their Private Pilot's Licence (PPL).

The TAG Flying Scholarship is part of the airport's "Aviation to Education" programme. Now in its 11th year, the programme engages schools and colleges within the local area to inform and educate about aviation.

---

Strong recovery in 2017 despite year-end dip

There was a 1% decline in YOY business aviation activity in December 2017, with a big dip in owner flights - mainly in Piston and Prop aircraft - according to WINGX`s latest monthly Business Aviation Monitor.

In contrast, Jet activity was up 6% YOY and the year ended with 4% growth in business aviation flights compared to 2016.

The slowdown in activity in December was centred in Western Europe, with fewer YOY departures from France, Switzerland, Germany and Italy. Flight activity was ahead in the UK and Spain, whilst Germany contributed the largest growth to flight activity during 2017.

Poland contributed the largest YOY growth with departures up by 25%. Sweden was also well ahead in December 17. Flights from both Russia and Turkey were down in December, although up for the full year. Greece had largest relative gains in 2017, up 14% versus 2016.

---

---

2018 will see 'Millennial' growth in private jet sector

PrivateFly forecasts five key predictions for the year ahead.

2017 saw more growth in the private aviation sector than at any time since the financial crisis, with activity up 4 per cent year-on-year in Europe. And according to PrivateFly, this upward climb is set to continue in 2018.

The global private jet booking service saw its own flight sales increase by 51 per cent year-on-year, along with average spend per flight up by 19.7 per by cent. PrivateFly's 2017 Private Jet Charter Trends report also indicates that customers are getting younger: The average age was 40 throughout 2017 (versus 41 in 2016), but this fell to 38 in the second half of the year.

As we move into the New Year, Adam Twidell, CEO and founder of PrivateFly, offers five business aviation predictions for 2018.

---

---

WFS celebrates successful first year with TAG Farnborough

World Fuel Services is celebrating a successful first year as full-service fuels and solutions provider to TAG Farnborough Airport.

The UK-based airport is acclaimed for its offering, a reflection of the total service culture and facilities that are in place at the award-winning FBO site. WFS have been a part of that offering for over 15 years, providing a range of solutions including credit and payment solutions.

Over the last year, this relationship has advanced further and following a competitive tender, World Fuel Services took on the complete fuel and service provision at Farnborough in December 2016, following its own global growth based on the ExxonMobil aviation business acquisition.

---

---

London Biggin Hill sets out ambitions for 2018 and beyond

London Biggin Hill is announcing the creation of 2,300 new jobs at the airport within the next twenty years as part of its LoCATE strategy.

LoCATE (London Centre for Aviation, Technology and Enterprise) is a partnership of public and private sector organisations promoting London Biggin Hill as a primary centre for the aerospace industry in the capital. It sets out London Biggin Hill's vision for a sustainable future for both the airport and the local community by investing in infrastructure, skills development, training and job creation.

As part of the Mayor's Draft London Plan, London Biggin Hill is a designated Strategic Outer London Development Centre (SOLDC).

---

---

---

Paula Kraft, founder and President of Atlanta, GA-based Tastefully Yours Catering.

Diet Resolutions

appy New Year! It's a new year, and if you're like me, you have begun the year by
filling it with numerous resolutions for a positive transformation in several of your behaviours - mainly eating habits.

Over the last year, I have amply demonstrated reckless abandonment toward my diet which is why I didn't lose weight when I thought I should. Granted, It's only the first week of my new eating plan, so, in an effort to be more successful, I felt I should seriously ask myself why I gained weight last year while I thought I was eating healthy foods. Foods that should have shown a negative weight gain, not a positive one.

I cut down on my fat intake, thought I was controlling my carbs - and I exercised every day. (Oops, that may be one of the reasons I failed to get slim. I thought kitchen work, traveling, eating in great restaurants and walking to and from the hotel elevator actually did count as exercise!).

Next I tried to blame the lack of weight loss on my age and my family history. Most of my relatives are always on a diet and I've been told if you need to lose weight then do it while you're in your twenties since the older you get, the harder it gets. Ok, so that excuse works for me. Then I blamed my irregular schedule and convinced myself that my mindless eating really didn't make a difference in my weight. (Oops, guess not).

I do want that slimmer body, but, after all, I am a chef and a caterer and I must taste the food to make sure that I am serving you the best foods, flavored and seasoned to perfection. I thought the idea of portion control didn't matter for me because I didn't really eat big meals, I just tasted bits and pieces all day - every day.

---

---

From sweet and savoury to healthy - snacks take the focus onboard

Snacks take priority as top 10 products of interest at WTCE revealed.

Organisers of the World Travel Catering & Onboard Services Expo (WTCE) have revealed feedback from attendees that unveils savoury, sweet and healthy snacks as three of the top five food products searched for by VIP visitors.

The data, which explores feedback from more than 800 VIP attendees, saw a 41% interest in savoury snacks, 40% in sweet snacks and 38% in healthy snacks. The interest in snacks for onboard consumption comes as the growth of buy onboard presents new challenges and opportunities for travel operators to drive ancillary revenue and cater for a wide array of consumer preferences.

These insights into the products VIP visitors seek out at WTCE mirror wider consumer trends for snacking. Market statistics show that the UK currently holds the largest market for savoury snacks with the highest growth rate for all Western European countries.

---

---

Flightworx Aviation's Travelworx division taking travel agency services to the next level

Leading UK flight support provider, Flightworx, is expanding its travel agency support through its dedicated company Travelworx.

Travelworx is growing at a rapid rate and the requirements of clients are also evolving. To ensure they are keeping on top of these ever changing conditions they have recruited two new senior members to the Travelworx team, both of whom bring a wealth of travel industry knowledge, experience and expertise that will further improve their capability and service delivery to their clients.

---

---

Zunum Aero: Promise for commercial but vast implications for business aviation. Kathryn B. Creedy considers the potential for new propulsion systems. read

---

The essentials of obtaining crew visas. Dr. Adnan Branbo, Chief Executive Officer of iJET. read

---

More stories in our

Industry Supplements

see tabs at top of page.
---

Bell Helicopter reveals electric air taxi cabin at CES 2018
Bell Helicopter, participating at the consumer technology show - CES 2018 - in Las Vegas, NV., has unveiled its air taxi cabin design and fully integrated user experience.
"Bell Helicopter is innovating at the limits of vertical flight and challenging the traditional notion of aviation to solve real-world problems," said Bell Helicopter's president and CEO Mitch Snyder. "The future of urban air taxi is closer than many people realize. We believe in the positive impact our design will have on addressing transportation concerns in cities worldwide."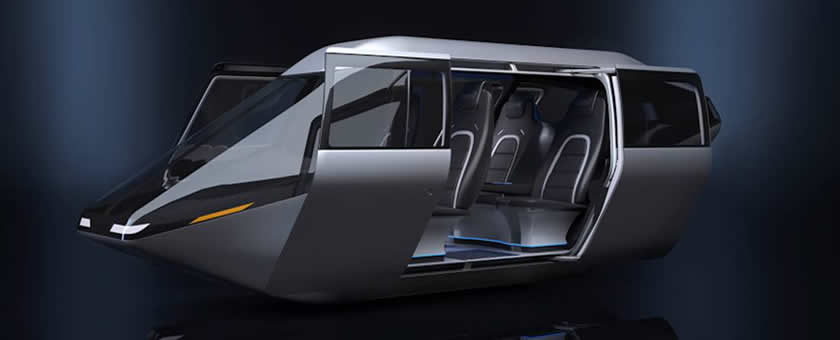 The four-passenger cabin demonstrates Bell's view of an on-demand mobility aircraft that focuses on a people-first engineered user experience tailored with an urban air taxi ride.
One look inside Bell's air taxi reveals an expertly crafted interior, fostered by years of customer insight and attention to detail. Passengers will sync into a fully integrated user experience control center, where they can catch up on world news, hold a video conference call, share documents with other passengers or simply unplug from the noisy world below in a comfortable, relaxing space.

During CES, attendees can experience an augmented reality simulator inside the cabin with a selection of consumer scenarios, from a red carpet premiere landing to several cross-city day and night trips. Bell's air taxi design took inspiration from the people that will benefit from it - bringing families, friends, and businesses closer together by gradually reducing the average in-car trip length.

"The air taxi is not a new concept - Bell Helicopter has been moving people over urban landscapes for decades," continued Snyder. "While we are laser-focused on the passenger experience and eager to share with the public, Bell continues to develop our air taxi design to provide safe, reliable transportation services to the world."
---

---

---

If we have sent BlueSky to you in error, please accept our apologies. The following link will enable us to remove you from our distribution list.

---

To prevent BlueSky from getting swept up by over-zealous email filters, we suggest that you add: bluesky @ newslett.co.uk

to your address book.

BlueSky is published every Thursday and emailed free of charge to over 50,000 key business and executive aviation industry personnel in 154 countries.

We welcome your press releases and announcements:

Enquiries | News | About us
©2008-2018
BlueSky Business Aviation News Ltd. All Rights Reserved. Reproduction in whole or in part in any form without express written permission is prohibited.
BlueSky: Your Essential Business Aviation News
Operators|Airports|FBOs|MROs|OEMs|Charter|Interiors|Avionics|Training|Inflight|Recruitment
Immediate Publication | Guaranteed Insertion | Global Audience
+44 (0) 1442 30 00 20