---

Jet Aviation achieves IS-BAH Standard registrations across the US

Jet Aviation's eight US FBOs have now qualified for Stage 1 registration to the IS-BAH Standard (International Standard for Business Aircraft Handling), joining the company's 13 FBOs in EMEA and Asia.

David Paddock, senior vice president and general manager, Regional Operations USA, said this achievement clearly demonstrates Jet Aviation's dedication to ensuring that all customers receive the maximum level of safe and secure ground-handling services at each of its FBOs.

"Ever since the IS-BAH program was launched, our FBO teams across the US have been working to ensure that all of our processes meet IS-BAH standards," Paddock said. "Completing Stage 1 certifications in the US, which complements our certifications throughout EMEA and Asia, demonstrates Jet Aviation's commitment to serving our customers - no matter where they are."

---

---

Skyservice expands award-winning service at Pearson International Airport

Skyservice Business Aviation, Canada's leading provider of business aviation services for more than 30 years, has announced a partnership with Ontario-based RICE Group to begin construction of new facilities under a 25-year lease to provide fixed-base operations and aircraft management and maintenance services at Pearson International Airport (CYYZ).

Internationally recognized for delivering a first-class experience to travellers across Canada, Skyservice is pleased to be expanding and further improving its presence in Toronto, continuing an award-winning commitment to exceptional service, safety and convenience for customers.

The new state-of-the-art facilities will consist of a 100,000 square-foot hangar and a 20,000 square-foot, full-service passenger lounge, including a modern business centre.

---

---

NBAA announces 400th Certified Aviation Manager

The National Business Aviation Association's Certified Aviation Manager (CAM) program reached a significant milestone this month when Kevin Flynn, director of aviation maintenance with AbbVie Inc. of Waukegan, IL, became the 400th aviation professional to earn CAM certification.

Flynn, 34, decided to pursue the CAM credential to expand his knowledge and abilities in all facets of flight department operations. His certification marks the latest accomplishment in a career that has taken the U.S. Air Force veteran from repairing A-10 "Warthogs" in Iraq to running his own maintenance division in less than 10 years.

"The knowledge I've gained throughout the exam process has been immediately beneficial in my job," Flynn said. "Earning the certification was challenging, but incredibly rewarding. I've learned so much about the industry."

---

---

Embraer delivered a total of 210 jets in 2017, of which 109 were executive jets (72 light and 37 large) and 101 were commercial aircraft.

The deliveries were within the outlook ranges for the year of 97 to 102 commercial jets, 70 to 80 light business jets and 35 to 45 large business jets. In the last quarter of 2017, Embraer delivered 23 commercial jets and 50 executive jets (32 light and 18 large). As of December 31, the firm order backlog totalled USD 18.3 billion.

---

---

Aero Expo Panama Third Edition to be held March 21-22

Business Aviation growth is strong in Latin America. In the next 20 years, 2,130 business aircraft will be delivered.

Aero Expo Panama (AEP) 2018 is the venue to meet and trade at the center of this thriving region. Dassault has already confirmed its participation with the presence of the Falcon aircraft.

"The presence of Dassault Falcon Jet for the third time in a row establishes Aero Expo Panama as a key event for private aviation in Latin America and demonstrates the confidence of our exhibitors in the event and in the market," said Yvan Boniface, AEP Organizer.

AEP will be held on Wednesday, March 21 through Thursday, March 22, 2018 at the Panama Pacifico International Airport with both regional and international exhibitors.

---

---

---

Flying Colours Corp extends paint shop footprint as work begins on long-term agreement with MHI Canada

Flying Colours Corp., the North American MRO business has commenced work fulfilling a long-term paint contract with MHI Canada Aerospace Inc., (MHICA), which is anticipated to last five years.

Under the terms of the partnership, Flying Colours will paint over 40 center fuselage sections of the Bombardier Global 5000/6000 aircraft at the company's Peterborough, Ontario facility each year.

MHICA, a group company of Mitsubishi Heavy Industries, is a Tier 1 manufacturer of major aircraft structures and assemblies based in Mississauga, Ontario.

To support the agreement, Flying Colours has invested over $1m constructing a new, dedicated paint facility specifically designed for the project.

---

---

My Sky named as one of Europe's best in first ever 'Ones to Watch' list

Switzerland's My Sky - specialsing in business aviation financial management - has been named 'One to Watch' by the European Business Awards, sponsored by RSM.

My Sky was launched in August 2015 and occupies a unique position in the private aviation market, concentrating on the financial performance of aircraft - or fleets - and acting as the link between industry stakeholders. In just two years, the company has become a recognized industry player with an exponential growth, representing a fleet of 60 aircraft.

Christopher Marich, Cofounder and Global Strategy Director of My Sky, commented: "It is a great honour for our team to be recognised by Europe's largest cross-sector business competition as one of the best in Europe. Such a recognition, alongside with big names, gives us the motivation to go further in our developments to make the private jet industry a better, more transparent and more efficient place for owners. We are grateful to all our clients, partners and employees who make this success possible."

---

---

---

Robert Brega

TRAXXALL Technologies, providers of an innovative aircraft maintenance tracking and inventory management system, has appointed Robert Brega as Regional Sales Director, Northeast.

Bob Brega spent 29 years with leading business aviation MRO provider Duncan Aviation - most recently as Regional Manager, Northeast - helping client flight departments maintain their aircraft for optimal efficiency, safety and performance.

He is widely recognized for his leadership, industry knowledge and commitment to excellence in customer service.

Bob's mandate is to develop new business within his territory, which encompasses ME, NH, VT, MA, CT, RI, NY, NJ, PA, DE, MD, DC, WV and VA.

---

---

IS-BAH achieves century milestone

The International Business Aviation Council (IBAC) has announced that its International Standard for Business Aircraft Handling (IS-BAH) programme has reached 100 registered handler locations since it was introduced in July 2014.

The IS-BAH follows the structure of the International Standard for Business Aircraft Operations (IS-BAO) programme and incorporates the NATA Safety 1st Ground Audit Program. IS-BAH is the global industry standard for business aircraft handling agents and fixed-base operators around the world developed to align with existing and future Safety Management System (SMS) requirements aimed at ground handling service providers.

---

---

HNA General Aviation invests in future generations of aviators

China is set to become one of the largest General Aviation markets in the world after the release of new guidelines by the Chinese State Council promoting investment and easing technicalities for operators.

In a country with 1.3 million people and the largest consumer market in the world, only 300 general aviation airports, 281 general aviation operators and 1,874 general aviation aircraft existed in 2015. The new business environment foresees the building of more than 500 general aviation airports and handling of over 5,000 general aviation aircraft by 2020.

---

---

---

---

---

Mayhemville to Shangri-La; a trip from Chaos to Efficiency

Issam Sultan, managing director of UK flight support company FltCtrl.

fter years of trying to get organized, I realized that no amount of shiny new gadgets, cutting-edge hardware or super-cool apps were going to do the job on their own - I had to put them
to proper use.

Setting up a small business from scratch, every day in the office was a struggle. I had to keep pace with the ever-growing backlog of memos, invoices, emails, contracts and files cluttering my desk - all while dealing with hard-to-please clients, suppliers that weren't delivering, competition that wouldn't play fair, and - the trickiest of the lot - my business partner (who, despite being all-knowing, is chaos in disguise!).

My goal for FltCtrl has always been to build something profitable, and sustainably so. Everything I read stressed that efficiency was the key to unlocking success, but I had not ever seen it done. Since my graduation, I had never been fortunate enough to work for a company that had reached maturity.

With no first-hand experience of it, I was not even sure what 'efficiency' was.

---

---

We must protect aviation safety culture, say pilots on crash anniversary

10 years after British pilots averted a major catastrophe when their aircraft lost all engine power on its approach to Heathrow, pilots are highlighting the importance of thorough crash investigation.

The British Airline Pilots' Association (BALPA) says that had the Air Accidents Investigation Branch not been given the time and support to carry out a painstaking investigation, we would never have known the cause of the crash or learnt the lessons that have made flights safer in its wake.

On 17th January 2008 the pilots of the British Airways flight 38, known as Speedbird 38, lost power from both engines in the final stages of the approach to London Heathrow Airport. The engines refused to respond to thrust lever inputs and at this point the commercial airliner effectively became a 160-tonne glider.

---

---

Series of senior hires showcases high-calibre tech talent at Avinode

Business aviation technology company Avinode is announcing the latest in a series of tech-driven appointments to its senior leadership team over the past 12 months, with the latest promotion of Saskia de Jong to Director of Sales Americas.

Saskia de Jong, Jenne Reed, Alex MacRae and Annika Abraham.

De Jong, previously US Key Account Sales Manager, will be based at Avinode's office in Miami. She joins a global senior leadership team which also includes Annika Abraham, who was herself promoted to Managing Director, EMEAA (Europe, Middle East, Africa & Asia), Avinode, in 2017 after six years as CFO.

---

---

---

Air Partner Remarketing completes sale of Beechcraft King Air 200

Air Partner plc has completed the sale of a 2009-vintage Beechcraft King Air 200 (serial number BB-2014), acting as the exclusive remarketing agent for the seller, Air HH Luftverkehrsgesellschaft mbH Privat Jets.

This sale marks a strong start to 2018 and follows a successful 2017, in which the Aircraft Remarketing division won and fulfilled a number of mandates. Notable transactions included the sale and delivery of a third Kenya Airways B777-200ER aircraft to Omni Air International; the sale of two B747-400s to Jet Midwest Group on behalf of China Airlines; and the sale of two of Kenya Airways' B737-700 aircraft, which were then leased back to Kenya Airways for continued operation.

---

---

---

---

---

---

VistaJet ideally positioned to seize larger market share in 2018

VistaJet has announced its strongest ever year in 2017, with flight hours up markedly year-on-year.

It also made significant progress on its core strategic priorities, increasing market share across the globe, and recording double digit growth in flight hours in both the US and Asia.

Also, following investment from funds affiliated with Rhône Capital, the company's equity is valued well in excess of $2.5bn, cementing VistaJet's position as one of the top five European unicorns by funding.

If current trends continue, 2018 is expected to be another momentous year for the company. The upper-end of the sector historically tracks the global economy, and with Europe, the US and the Middle East seeing growth once more, demand is only set to build in 2018. While the more budget end of the sector is struggling, trading for premium brands such as VistaJet is strong, as business leaders, corporations and UHNWIs are becoming ever more selective in their booking choices.

---

---

---

Air BP expands into Iceland, supplying fuel at Reykjavik-Keflavik International

Air BP, the international aviation fuel products and service supplier, has further extended its reach in the Nordics and is now present at Reykjavik-Keflavik International Airport (KEF/BIKF), Iceland's largest airport.

This marks the first location for Air BP in Iceland and comes in response to increased customer demand from both the business and commercial aviation sectors.

Commenting on the expansion, Thorbjorn Larsson, general manager, Air BP Nordics said: "We are extremely pleased to be in Iceland, serving the needs of our business and commercial aviation customers who are increasingly travelling here. As the country's main international hub, and Europe's fastest-growing major airport, Reykjavik-Keflavik is an exciting addition to our growing network in the Nordics."

---

---

China CAA grants airworthiness certification to SR Technics in Malaysia

Leading MRO services provider SR Technics has announced that its Malaysia operations received airworthiness certification from the Civil Aviation Authority of China (CAAC).

With the certification, SR Technics Malaysia will be able to certify components for customers on the Chinese market. Additionally, SR Technics Switzerland renewed the existing CAAC certification which allows us to continue to grant Chinese airworthiness certificates from our Swiss maintenance facilities.

The CAAC certification is an important milestone for SR Technics, as the company is expanding its component services in China and the wider Asia Pacific region. This certification will enable SR Technics Malaysia to support both existing and new Chinese-based customers in component repair, and more broadly, it evidences the growth and development of the company's facilities and services.

The Malaysia location will now be able to assist carriers, MROs and third-party customers that require the certification with component repairs on their Airbus and Boeing aircrafts in China, increasing SR Technics' presence and capabilities in the Asia Pacific region.

---

---

Total UK awarded Wiking Helicopters 2 year Jet A-1 contract

Air Total has been awarded a 2 year Jet A-1 Contract with Wiking Helicopters to work on the Galloper Wind Farm project.

Managed by Innogy SE on behalf of the other partners the project will generate enough power for up to 380,700 homes. Around 700 UK jobs are being created during the construction of the wind farm, and 90 long-term east coast jobs will be created, once it is operational.

Total will supply Wiking with Jet A-1 as well as providing a fully self bunded refuelling tank with pumps that allow Wiking to fuel their aircraft and support a number of offshore customers with personnel and material. As part of this contract Total will assist with practical and fuel quality control training to ensure that Wiking Helicopters are flying their missions as safely as possible.

---

---

Paula Kraft, founder and President of Atlanta, GA-based Tastefully Yours Catering.

If it smells like fish . . .

ne of the most often asked questions during my training classes is about serving fish
on board. Questions about its selection, its handling, its cooking or reheating.

There is so much information to share about fish - more than we can cover in one article - so I will attempt to hit the high spots.

First and foremost, keeping fish safe requires proper handling and considerable attention; not only by the caterer, but by the delivery person, the intermediate handlers (the FBO or crew member) right through to onboard handling during, and on completion of, the cooking process.

Fish poses a risk for you, A large risk. Fish deteriorates quickly. Fresh fish has as a very short shelf-life and should ideally be consumed within a day or two of purchase. And if the fish has been marked on the grill and left raw (or 80% undercooked to finish on board) it is especially critical to get that fish delivered and wrapped with some sort of ice pack, and close to freezing, as soon as possible.

A few simple rules

I think we should start out with a few rules: (I guess not really rules, but things I want you to know and think about when the catering request has fish on the menu). These are my personal precautions for you.

If we lived in an ideal world I would suggest putting fish on the aviation off-limits list.

---

---

Interflight boosts maintenance capability with new Hawker, Beechjet and Nextant type ratings

Unveils newly refurbished hangar.

London Biggin Hill based Interflight Aircraft Maintenance has increased its approvals capability with the addition of Hawker 400XP, Beechjet 400a and Nextant 400XT type ratings. The company has also unveiled a newly refurbished hangar.

The new ratings compliment Interflight's existing EASA Part-145 approvals for Hawker 700, 800, 800XP, 900XP and 1000, and cover a range of services from scheduled and non-scheduled maintenance, to inspections, repairs and AOG support.

The newly refurbished hangar - which can accommodate up to four aircraft at any one time - includes brand new high gloss flooring, new skylight windows and new signage.

---

---

British European Aviation named newest Piper Dealer

Piper Aircraft has announced the appointment of British European Aviation Group (BEA) as the exclusive Dealer for the United Kingdom, Ireland and the Channel Islands.

These territories represent some of the most active private aviation markets in Europe.

"As the exclusive leasehold owners of Wycombe Air Park, BEA has 24/365 access to a General Aviation friendly airfield which is ideally situated near London," said BEA CEO, Sean Brown.

---

---

Strong recovery in 2017 despite year-end dip. The WINGX Report read

---

2018 will see 'Millennial' growth in private jet sector PrivateFly forecasts five key predictions for the year ahead. read

---

Diet Resolutions. Paula Kraft, founder and President of Atlanta, GA-based Tastefully Yours Catering. read

---

RUAG chosen by AeroGeo for complex onsite aircraft repair events in Siberia read

---

More stories in our

Industry Supplements

see tabs at top of page.
---

Turn the Tide on Plastic around the world
The message of sustainability and protection of the seas carried by the 'Turn the Tide on Plastic' boat in Volvo Ocean Race 2017-18 is flying high with Hi Fly.
An Airbus A330 painted in the same livery as the boat has already been across the five continents, spreading the word around the globe.
During the past three months the aircraft has visited more than 20 destinations, landing in the largest country in the world - Russia - as well as the small paradise islands of Jamaica and Tahiti. In Europe it has visited the UK, Belgium, Portugal and Spain; in Africa - Nigeria, Guinea and Congo; plus the biggest nations on the American continent: USA, Canada and Brazil.
In addition, the themed aircraft has been in countries such as India and China where plastic contamination and pollution in general are a huge concern. The most recent destinations visited have been Australia and New Zealand where, coincidently, the Turn the Tide on Plastic boat is heading soon.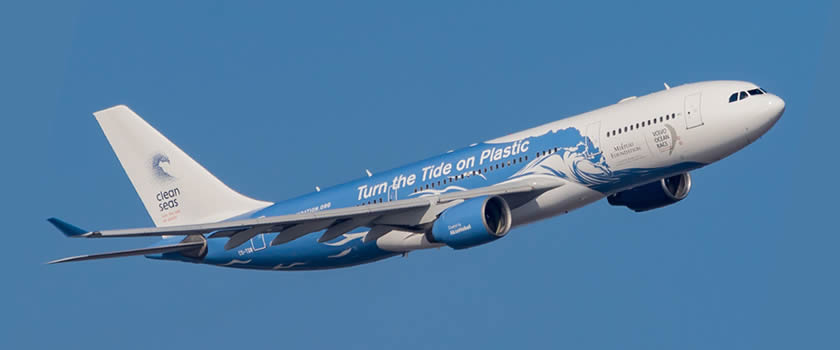 The aircraft is painted with a strong 2-sided statement: one dark blue side symbolizing a "polluted" ocean, and one light blue side (pictured) representing a "clean" ocean | Photo: Leonardo Sanchez.
With this initiative, Hi Fly is raising awareness for an unprecedented campaign to eliminate marine litter and plastic in particular supporting the UN's Clean Seas campaign. The aircraft is painted with a strong 2-sided statement: one dark blue side symbolizing a "polluted" ocean, and one light blue side representing a "clean" ocean. The Turn the Tide on Plastic aircraft will continue to operate worldwide while the boat crosses the five oceans, amplifying the message and the reach of the campaign in both the seas and the skies.
Hi Fly is an airline specialized in wet lease, EU-OPS carrier, FAA approved, EASA and IOSA certified. The company operates a large fleet of Airbus A330's and A340's, exclusively available for wet lease worldwide.
---

---

---

If we have sent BlueSky to you in error, please accept our apologies. The following link will enable us to remove you from our distribution list.

---

To prevent BlueSky from getting swept up by over-zealous email filters, we suggest that you add: bluesky @ newslett.co.uk

to your address book.

BlueSky is published every Thursday and emailed free of charge to over 50,000 key business and executive aviation industry personnel in 154 countries.

We welcome your press releases and announcements:

Enquiries | News | About us
©2008-2018
BlueSky Business Aviation News Ltd. All Rights Reserved. Reproduction in whole or in part in any form without express written permission is prohibited.
BlueSky: Your Essential Business Aviation News
Operators|Airports|FBOs|MROs|OEMs|Charter|Interiors|Avionics|Training|Inflight|Recruitment
Immediate Publication | Guaranteed Insertion | Global Audience
+44 (0) 1442 30 00 20