---
Flying Colours Corp. ramps up production six-fold as doors open at new St. Louis facility
Flying Colours, the North American MRO, completions and avionics business has officially opened the doors of its new St. Louis, MO., facility.
Manufacturing at the new facility, which primarily supports the design, build and finishing of woodwork monuments for large business jet cabins, has already begun.
The first components will be delivered to an undisclosed customer before the end of March.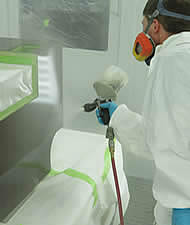 The Flying Colours Corp. St. Louis facility includes a number of dedicated finishing booths.
The industrially designed floorplan was created with lean manufacturing operating principles at its core. This improves efficiency, and combined with the additional workshop space, is set to increase St. Louis productivity by 600% during the first year.
---
---
Bombardier celebrates 20 years of innovation at its Global Completion Center with ramp-up of Global 7000 activities
This year, Bombardier Business Aircraft is celebrating the 20th anniversary of its Global Completion Center in Montreal.
The facility continues to ramp up activities surrounding the highly anticipated Global 7000 business jet, and is at the halfway point in its large-scale hiring objective to add 1,000 new positions to its local workforce.
"This exciting milestone represents 20 years of contributing to Montreal's aerospace industry and the immense success of Bombardier's flagship Global aircraft," said Paul Simard, Vice-President, Operations, Global Completion Center.
"This anniversary also highlights the superior quality, workmanship and expertise delivered at the Global Completion Center, demonstrating Bombardier's position as a leader in the business aircraft industry."
---
---
CBAA launches search for new CEO
Under the direction of the board of directors, the Canadian Business Aviation Association (CBAA) is currently seeking candidates to fill the position of president and CEO.
The successful candidate will have proven leadership and management abilities, and possess well developed interpersonal and communication skills. Knowledge of the Canadian business aviation industry, association management experience, knowledge of government affairs, and fluency in French would be considered assets.
Individuals wishing to apply for the position are invited to contact Aime O'Connor, Executive Assistant to the President and CEO & Director of Administration at Canadian Business Aviation Association: aoconnor@cbaa.ca 613-236-5611 ext.228
---
---
Sheltair Aviation achieves IS-BAH Registration as the company continues to push operational excellence
Sheltair Aviation, one of the nation's leading providers of aviation services and facilities management, is seeking to go for the Gold as it achieves Stage I International Standard for Business Aircraft Handling (IS-BAH) registration, the industry's global standard for best practices by business aviation ground handlers.
Sheltair's Chief Operating Officer, Warren Kroeppel, said, "This certification is all about safety management and reflects the strict protocols handlers and operators must meet under safety management system (SMS) requirements being promulgated under the International Civil Aviation Organization (ICAO).
Sheltair protocols have been, and always will be, about safety, but achieving this certification ensures we have the highest measurable goals and objectives."
---
---
Medevac company Guardian Flight transitions to Learjet 45s in Alaska
Guardian Flight LLC, a leading air medical transport company, is transitioning its medical jet fleet in Alaska to Learjet 45s. The first Learjet 45 will enter service this month based in Fairbanks.
Eventually, five Learjet 45s will replace Guardian Flight's older and smaller Learjet 35s and Beechjets. Compared to the smaller jets, the mid-size Learjet 45s will provide better reliability, improved flight performance and braking, increased parts availability and more modern avionics for better cockpit standardization and less pilot workload.
In addition, Learjet 45s have a slower approach and circling speed than Learjet 35s. That will allow Guardian Flight pilots to attempt approaches into airports with lower cloud ceilings and lower visibility requirements than with the Learjet 35s in the past.
---
---
FlightSafety announces new leadership elements for flight department professionals workshop
FlightSafety International announces a new leadership workshop designed specifically for flight department personnel.
Leadership Elements for Flight Department Professionals was developed in conjunction with ServiceElements. This new three-day workshop is offered by FlightSafety and ServiceElements at FlightSafety's Learning Center in Dallas, Texas.
"Leadership Elements for Flight Department Professionals is designed to enhance the skills of flight department team members and to help current and future leaders achieve their goals," said Paul Kuchta, Director, Training Operations. "Our goal is to equip participants to effectively address a wide variety of today's leadership challenges and trends."
The workshop topics were determined based on Customer feedback and input from experienced department leaders, facilitators and other experts.
---
---

---
Frank Walschot
SR Technics has announced the nomination of Frank Walschot as Chief Executive Officer as of April 1, 2018, replacing Jeremy Remacha, who is leaving the company at the end of the scheduled transition period to the new shareholders.
With more than 30 years' aviation industry experience in leading operational, commercial and financial functions around the world, Frank Walschot is a recognized and respected senior executive, well trusted with SR Technics' business and challenges for many years.
Walschot joined SR Technics in 2008 as Vice President Engine Maintenance and shortly thereafter was appointed Head of Engine Services. In January 2015 he was promoted to COO..
Frank Walschot now returns to SR Technics after a one-year assignment in Haikou, China as Chief Investment Officer of HNA Technic.
---
Esterline Avionics Systems
Marie-Hélène Emond
Marie-Hélène Emond has been named Esterline Avionics Systems' marketing communications and public relations manager, taking over the role held by Janka Dvornik, who is retiring at the end of March after 35 years with the company.
Emond will report to Kristof Vierin, Vice-President Sales, Avionics Systems.
Ms. Emond has many years of experience in marketing communications management while working for a wide range of industries, on an international scale.
In addition to her extensive experience in business communications, Ms. Émond holds a Bachelor in Translation degree from l'université Laval and a Master in Business Administration (M.B.A.) from l'université Laval and York University. She is fluent in English, French, Spanish and German.