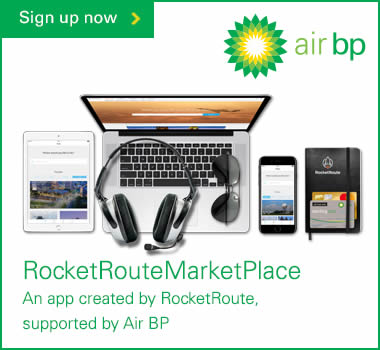 ---
Farnborough:
Qatar Executive unveils its first state-of-the-art Gulfstream G500
Private jet division to receive 25 additional new aircraft by 2022.
Qatar Executive, the private jet charter division of Qatar Airways Group, proudly unveiled its brand-new executive jet, the Gulfstream G500, on the opening day of Farnborough International Airshow.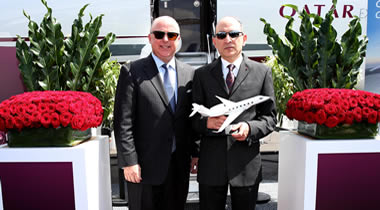 The all-new aircraft will officially join Qatar Executive's fleet by the end of this year, and will mark the beginning of an agreement that was initiated in October 2014, between Qatar Airways and Gulfstream Aerospace Corp. The company expects to receive eight of the 25 additional new aircraft it has on order between now and the end of 2019.
---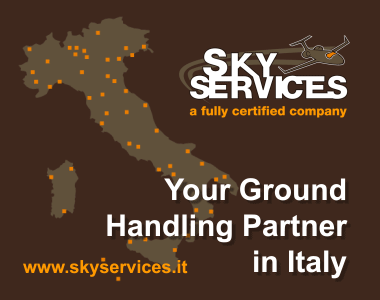 ---
Europe:
TAG Aviation introduces first Global 5000 equipped with Premier cabin destined for charter in Europe
TAG Aviation Europe is the first to offer the ultra-long range Global 5000 aircraft, outfitted with Bombardier's standout Premier cabin, for charter to European customers.
The Premier interior's striking aesthetics and ergonomic innovations bring a new level of refinement to the cabin experience, blending contemporary design, sumptuous materials and flawless craftsmanship with exceptional comfort, spaciousness and productivity.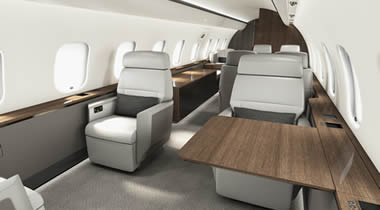 The Global 5000 aircraft will be based in Paris and represents the ninth addition to TAG Aviation Europe's managed fleet of business jets since the charter operator was awarded the Air Operators Certificate (AOC) from Transport Malta last year.
---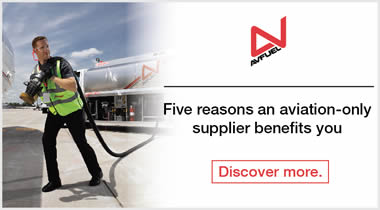 ---
Farnborough:
Inmarsat and European Space Agency complete major milestone toward air traffic modernisation
Leading global mobile satellite communications provider, Inmarsat, and the European Space Agency (ESA), have successfully completed the first test flight using the world's most advanced aviation satellite technology for their Iris programme in support of European air traffic modernisation.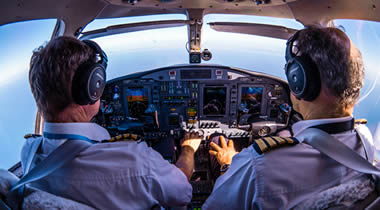 The evaluation is a significant step forward in realising more precise flight surveillance and more efficient air traffic management.
---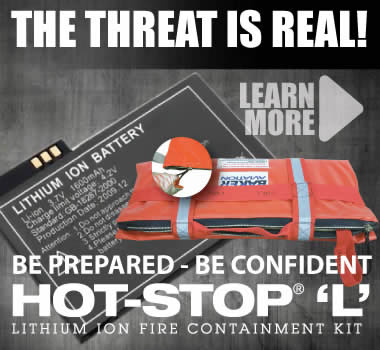 ---
Africa:
Air Partner, the global aviation services group, was recently called upon to assist in the successful relocation of a lion on behalf of the Born Free Foundation.
The lion cub "King" was discovered in a Paris apartment in October last year, where he had been kept illegally as an exotic pet and neglected by his owner. Since then, he had been living temporarily at Natuurhulpcentrum rescue centre in Belgium but was recently found a new permanent home at Born Free's Big Cat Rescue Centre at Shamwari Private Game Reserve in South Africa. Air Partner was tasked with transporting the big cat from Johannesburg to Port Elizabeth on a chartered aircraft, from where he made the hour-long journey to Shamwari.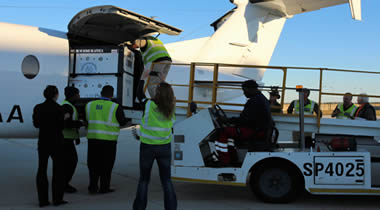 Air Partner's freight team was on hand at all times to assist with the complex custom clearing process in Johannesburg and ensure a smooth transition from King's initial commercial flight on Kenya Airways to the chartered Beech 1900 for the next leg of his journey. The turboprob was chosen for its suitable cargo size, which allowed two vets to travel alongside the lion with access at all times. Ensuring the safe loading and unloading of King was paramount, as was his health and welfare.
---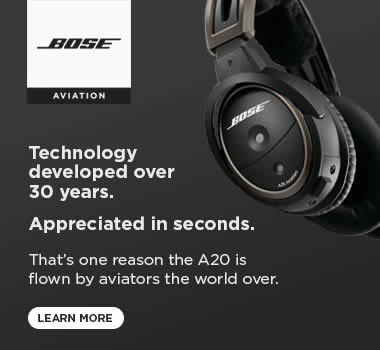 ---
Farnborough:
Rolls-Royce builds the world's greatest engine - brick by brick
Rolls-Royce is getting ready to inspire budding engineers across the world by challenging them to build one of its engines of the future – brick by brick.
While the real-life UltraFan, a next generation jet engine designed to power commercial aircraft, won't be available until the middle of the next decade, a scaled-down LEGO version of the engine could be in the shops much sooner as a campaign to have the engine immortalised in the famous plastic bricks is close to reaching a key milestone.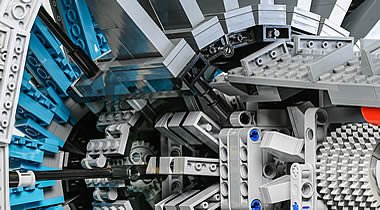 And while the LEGO version of the engine won't deliver up to 100,000lb of thrust and have a fan diameter about the height of an elephant, at 2,953 individual pieces it is still an engineering challenge and incorporates its own gearbox and rotating set of fan blades.
It is one of a number of creations that are up for a public vote on the LEGO ideas site.
---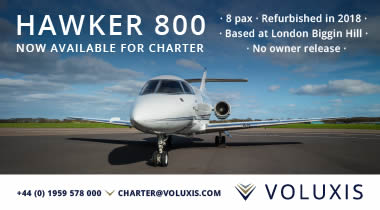 ---
---
Germany:
Air Charter Service takes Germany's biggest club night to the skies
Leading aircraft charter specialist, Air Charter Service, recently arranged a VIP-configured, fully customised 'Club Jet' to take some of the world's biggest DJs to host a party in the skies, before kicking off a huge clubbing weekend in Germany.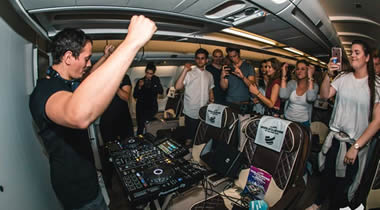 Alle Farben DJ-ing in the sky.
BigCityBeats' 'World Club Dome' is a highlight of the clubbing calendar, and described as "one of Europe's biggest EDM and dance festivals". It consists of a whole weekend of DJs playing to more than 120,000 clubbers over 20 different dancefloors in Frankfurt.
The party doesn't start at the club in Frankfurt though - around 100 lucky guests begin the experience at more than thirty thousand feet on an Airbus A340 between London and Germany, directly before the main event takes place. The aircraft is configured in such a way that there is enough room for the decks, the sound system and for people to get up and dance.
---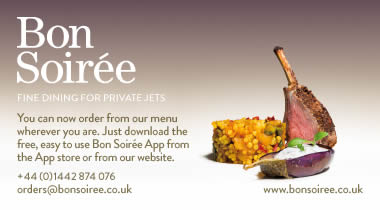 ---
Farnborough:
World Fuel Services is playing a pivotal role at this year's Farnborough International Airshow as the supplier of fuel and equipment to the show's commercial and business aviation visitors.
With new aircraft come new operating requirements, thus airshow host TAG Farnborough Airport has partnered with World Fuel to develop an event-specific solution including new trucks, equipment and Avgas.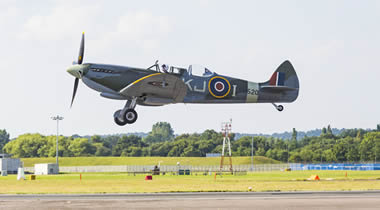 To service the airshow's worldwide visitor base, World Fuel Services Trip Support is offering flight planning, weather, ground handling and necessary regulations to ensure thorough support for customers through every phase of their flight to and from the show.
"We have a long-standing relationship with TAG Farnborough and it is a pleasure to support them in hosting what is widely renowned as one of the most significant event in the aviation calendar," said Mark Amor, World Fuel Services' vice president. "The airshow isn't just for aviation enthusiasts or professionals, but also for families and children some of whom could well be our next generation of pilots."
---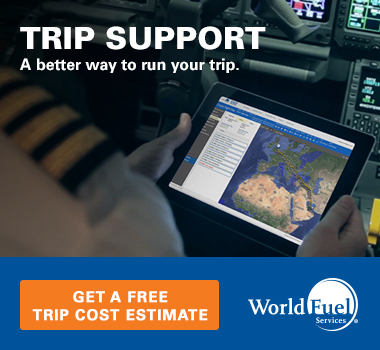 ---
SETOps:
Esterline wins throttle quadrant assembly contract for new Cessna Denali

Global defense and aerospace technology leader, Esterline Corporation, will build-to-print flight control devices under a Textron Aviation design for the new Cessna Denali single-engine turboprop.

The Cessna Denali is expected to achieve FAA certification in 2020.
"This win to supply the throttle quadrant assembly follows Esterline's recent award for providing the control wheel for the Cessna Denali aircraft, an original design by Mason," said David Tessier, President of Esterline Mason.
---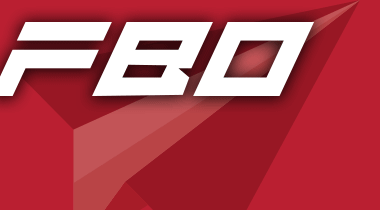 ---
The Essentials of International Trip Planning
A Brief Guide for Private Jet Operators Flying Internationally.
Following the recent success of his series of articles in BlueSky, Dr Adnan Branbo, CEO of leading international trip-planning and flight services management company, iJET, has produced an invaluable guide to the essentials of international trip planning for private jet operators.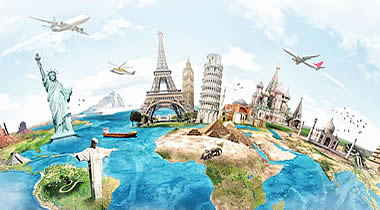 Published as an eBook, this 'go-to' guide addresses Overflight & Landing Permits, Navigational Fees, Airport Slots, Crew Visas and Fuel Purchase, plus insights into country-specific regulations.